Kailasam Balachander
09.07.1930, Nannilam, Thanjavur, India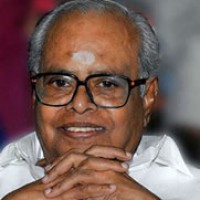 Director and screenwriter whose full name is Kailasam Balachander, active from the mid-1960s making over eighty films. He graduated in zoology from Annamalai University in 1949 and then got a job in a government institution. When his colleagues started an amateur theatre group, thanks to his writing talent he became a dramaturgist. He wrote in English, and his drama
Major Chandrakanth
which he wrote in 1963 was later made into a film in three languages (Tamil, Hindi and Telugu). Encouraged by his colleagues, he presented the plays to wider audiences, translated the into Tamil and performed publicly. In 1964 the film star M. G. Ramachandran offered him to write a screenplay for his following film. The collaboration fell through after all, but Balachander started his film career independently, as a director and screenwriter. At first he directed his own dramas, such as
Major Chandrakant
(1966) in Tamil, and then he turned to other themes. Although he was one of the first directors whose films talked about the middle class which attracted the audience, it took him a while to master the film media, still thinking from the theatre point of view. Not fearing controversy, he made
Arangetram
(The Debut, 1973) in which the leading female character becomes a prostitute due to poverty. This same era produced
Avargal
(Them, 1977),
Thaneer Thaneer
(Water, Water, 1981) and hugely popular love story
Ek Duuje Ke Liye
(1981).
Achamillai Achamillai
(1984) brought him a Silver Lotus for best film in Tamil in 1985 and a Tamil film industry Filmfare award for best director. He also won the latter for
Vaaname Ellai
(1992).
Paarthale Paravasam
(2001),
Abaddham
(2006) and
Poi
(2006) are among his last films. During his years-long career he has launched the careers of many previously unknown actors and actresses, and he is also the owner of production company Kavithalaya Productions founded in 1981.