Jahnu Barua
17.10.1952, Gauhati, Assam, India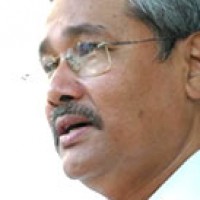 Director, screenwriter, producer and editor who graduated from Guwahati University, and then finished postgraduate studies in film directing at the Film and Television Institute of India. He made his first films during the mid-1970s. At first they were short and documentary films, and he directed his first feature length film
Aparoopa
in 1982. This melodrama is thematically placed in the place of his birth, Assam, as well as his following films which deal with social issues. This was followed by drama
Papori
(1986) and
Halodhia Choraye Baodhan Khai
(The Catastrophe, 1987) which brought him a Silver leopard award at the Locarno International Film Festival in 1988, and a National Film Award for best film in India in the same year. Occasionally he directed television films and series. Addressing problems in local communities, in his film
Banani
(The Forest, 1989) he deals with the topic of illegal deforestation, and talks of education in
Firingoti
(The Spark, 1992).
Hkhagoroloi Bohu Door
(It's a Long Way to the Sea, 1995) brought him a Golden Lotus, a National Film Award in 1995. After this he filmed
Kukhal
(The Price of Freedom, 1999),
Konikar Ramdhenu
(Ride on the Rainbow, 2003) and
Tora
(Tora's Love, 2005), followed by his first film in Hindi
Maine Gandhi Ko Nahin Mara
(2005). In 2007 he directed
Har Pal
which never made it to the market, due to certain problems. After taking part in omnibus of Indian directors
Mumbai Cutting
(2011), he filmed
Baandhon
(Waves of Silence, 2012).