Branko Bauer
18.02.1921, Dubrovnik - 11.04.2002, Zagreb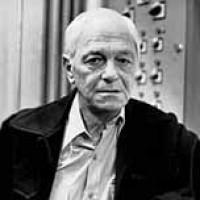 He started his film career in 1949 in Jadran film where he worked as production manager and director of
Film News
. After several short films and documentaries, he directed several children's films (
The Seagull, Millions on the Island
).
Don't Look Back, My Son
(Ne okreći se sine, 1956) is one of his best-known films. It shows his inclination towards individualization and psychological profiling of characters. His next films include a melodrama
Only People
, his crucial work done in Macedonia
Three Girls Named Anna
(Tri Ane, 1959), the social-love urban comedy
Martin in the Clouds
(Martin u oblacima, 1961), a popular comedy
One too Many
(Prekobrojna, 1962), and the pioneering film of the Yugoslav black wave
Face to Face
(Licem u lice, 1963).
He was the first Croatian author to use the poetics of the classic (American) narrative film systematically and competently. He was the notable founder of several film genres and won sixty awards over the course of his career. During the 1970s he shot a successful film series about children in war -
Winter Vacation in Jakobsfeld and A Farm in Mali Rit
, which achieved great success among the general audience. His last film in 1978 was
Boško Buha
. In 1985, s group of film writers, lead by Nenad Polimac, made a monography about this great Croatian author.
Filmography
- Boško Buha (1978)
- Samoupravljanje - nada (Self-management-Hope, 1978); documetary
- Salaš u malom ritu (A Farm in Mali Rit, 1976)
- \Salaš u malom ritu\ (1975); TV series
- Zimovanje u Jakobsfeldu (Winter Vacation in Jakobsfel, 1975)
- Četvrti suputnik (Fourth Companion, 1967)
- Doći i ostati (Arrive and Stay, 1965)
- Nikoletina Bursać (1964)
- Licem u lice (Face to Face, 1963)
- Prekobrojna (One too Many, 1962)
- Martin u oblacima (Martin in the Clouds, 1961)
- Tri Ane (Three Girls Named Anna, 1959)
- Samo ljudi (Only People, 1957)
- Doviđenja Krapino (Goodbye, Krapina, 1956); documentary
- Ne okreći se, sine (Don't Look Back, My Son, 1956)
- Milijuni na otoku (Millions on the Island, 1955)
- Vesna (1955); documentary
- Prva revija domaćeg filma (First Revue of Domestic Film, 1954)
- San male balerine (Little Balerinna's Dream, 1954)
- Naprijed (Advance, 1953)
- Dani slave (Glory Days, 1953)
- Sinji galeb (The Seagull, 1953)
- Zagorje slavi (Zagorje Celebrates, 1952)
- Uzbuna (Alert, 1951)
- Naša djeca (Our Children, 1950)