Francesco Calogero
Messina, Italy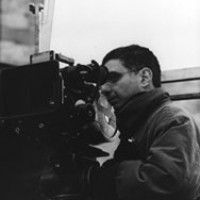 Calogero was born in 1957 in Messina. He graduated with a degree in law and worked in many film clubs. After twenty years of collaboration with the Festival in Taormina, in 1985, he founded the Messina Film Festival. Beginning in 2003, he worked with the Costa Iblea Film Festival organization, and in 2006, the Valdarno Cinema Fedic festival. He also teaches and has held film seminars and workshops all over Italy since 1995. He has been a professor at the University of Messina since 2005. After making two films in the super 8 format and a few videos, in 1987, he directed his feature film
La gentilezza del tocco
that won awards at many international festivals. In 1988, during a festival in Taormina, together with Ninni Bruschetta and Donald Ranvaud, he made an independently produced film called
Visioni private
(Private Screening), which he finished two years later. Together with Bruschetta he directed the theatre play
Il battello degli amanti
( 1988) and interpreted the play by Beniamino Joppolo,
I carabinieri
, presented in Gibellina 1994. In 1995, he directed Gaetano Donizetti's opera,
Rita ou Le mari battu
, and two years later Pietro Mascagni's
Cavalleria rusticana
and Ruggero Leoncavallo's
Pagliacci
. He directed two operas by Vincenzo Bellini,
Norma
in 1998, and in 2003
La sonnambula
. He also directed documentaries about the making of each of these operas. In 1992 he directed
Nessuno
and in 1997
Cinque giorni di tempesta
which was presented in Venice and won awards in Osaka and Annecy. His last feature film is
Metronotte
from 2000. He made his documentary,
L'implacabile tenente Rossi
in 2002 for I diari della Sacher. Two years later he made
In the Name of the Godfather
, testimony of the places in Sicily where F. F. Coppola made his film
The Godfather
.
Filmography
Filmography:

1985. La caviglia di Amelia (super 8)
1986. Il ritratto ovale (mm, video)
Georgia On My Mind (cm, video)
1987. Bionda per un giorno (mm, super 8)
Syrma-Traccia d'Antigone (cm, video)
La gentilezza del tocco
1988. Lonesome (cm, video)
1990. Visioni private
1992.Nessuno
1995. Rita ou Le mari battu (video)
1997. Cavalleria rusticana (video)
Pagliacci (video)
Cinque giorni di tempesta
1998. Norma (video)
2000. Metronotte
2002. L'implacabile tenente Rossi (mm, video)
2003. La sonnambula (video)
2004. In the Name of the Godfather (mm, video)