Fritz Lang
Vienna, Austria - 02.08.1976, Los Angeles, USA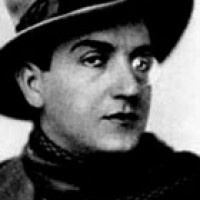 Fritz Lang (December 5th ,1890, Vienna, Austria – August 2nd , 1976,
Los Angeles, USA), was a director and a screenwriter of Austrian-Jewish origin.
He studied architecture and painting at the
Visokoj tehničkoj školi
in
Vienna. He fought in the WW I and was wounded four times. From 1917 he wrote
short stories and afterwards screenplays. In 1919 he directed his first film

Halbblut
, based on his own screenplay. He met his future wife, Thea von
Harbou, in 1920. They were married from 1922 until 1933, and Thea von Harbou
wrote screenplays for almost all of his most important films. In 1934 he signed
a contract with the American company
MGM
and moved to the US. He made
more than 40 films. Lang's place, and importance in the history of film is huge
and has greatly influenced many directors.
Filmography
- Die Tausend Augen des Dr. Mabuse (1960)
- Journey to the Lost City (1959)
- Das Indische Grabmal (1959)
- Der Tiger von Eschnapur (1959)
- Beyond a Reasonable Doubt (1956)
- While the City Sleeps (1956)
- Moonfleet (1955)
- Human Desire (1954)
- The Big Heat (1953)
- The Blue Gardenia (1953)
- Clash by Night (1952)
- Rancho Notorious (1952)
- An American Guerilla in the Philippines (1950)
- House by the River (1950)
- Secret Beyond the Door
- Cloak and Dagger (1946)
- Scarlet Street (1945)
- The Woman in the Window (1944)
- Ministry of Fear (1944)
- Hangmen Also Die (1943)
- Man Hunt (1941)
- Western Union (1941)
- The Return of Frank James (1940)
- You and Me (1938)
- You Only Live Once (1937)
- Fury (1936)
- Liliom (1934)
- Das Testament des Dr. Mabuse (1933)
- M (1931)
- Frau im Mond (1929)
- Spione (1928)
- Metropolis (1927)
- Die Nibelungen: Kriemhilds Rache (1924)
- Die Nibelungen: Siegfried (1924)
- Dr. Mabuse, der Spieler (1922)
- Vier um die Frau (1921)
- Der Müde Tod (1921)- Das Wandernde Bild (1920)
- Die Spinnen, 2. Teil: Das Brillantenschiff (1920)
- Der Herr der Liebe (1919)
- Die Pest in Florenz (1919)
- Harakiri (1919)
- Die Spinnen, 1. Teil: Der Goldene See (1919)
- Halbblut (1919)