Joseph Mankiewicz
11.02.1909, Wilkes-Barre, Pennsylvania, USA - 05.02.1993, Bedford, New York, USA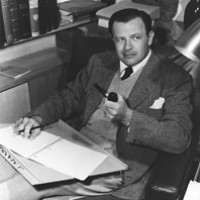 Mankiewicz was an American screenwriter, producer and director. He began his career in the film industry as a translator of subtitles in Berlin in 1928. The following year, thanks to his brother (Herman J. Mankiewicz, a screenwriter who in 1942 won an Oscar along with Orson Welles for work on
Citizen Kane
) he got a job in the Paramount film studio. At first he only worked on dialogues, and then from 1929 to 1935 wrote screenplays. Afterwards he became involved in production work. From the mid 1930s to mid 1940s he produced about twenty films, at first for MGM MGM (
The Philadelphia Story
, 1940,
Woman of the Year
, 1942), and afterwards for 20th Century-Fox (
The Keys of the Kingdom
, 1944). He made his directing debut in 1946 with
Dragonwyck
(1946), after which he abandoned production (although he co-produced his three later films) and devoted himself entirely to directing. During his directing career he made many different genre films such as the satire
The Late George Apley
(1947), romantic fantasy
The Ghost and Mrs. Muir
(1947), melodrama
House of Strangers
(1949), drama dealing with racism
No Way Out
(1950), comedy
People Will Talk
(1951), spy film
5 Fingers
(1952), popular film adaptation of Shakespeare's tragedy
Julius Caesar
(1953), musical
Guys and Dolls
(1955), mystery
The Honey Pot
(1967), western
There Was a Crooked Man
(1970) and his last film thriller
Sleuth
(1972). His most successful films among critics are
A Letter to Three Wives
(1949) and
All about Eve
(1950) for which he won, two years in a row, Oscars for Best Director and Best Screenwriter. He took over direction of the historical spectacle
Cleopatra
(1963) after director Rouben Mamoulian had already quit and the project surpassed its planned budget. Because the screenplay was left half finished, Mankiewicz had to write during the nights and direct during the days. He imagined the film as a combination of three dramas (Bernard Shaw's
Cesar And Cleopatra
and William Shakespeare's
Julius Cesar
and
Antony And Cleopatra
) resulting in a film lasting seven and a half hours. However, in post-production the studio drastically cut his film to a mere three hours. In 1987, he won the Golden Lion for life-time achievement in Venice.
Filmography
Filmograsphy as a director:
Sleuth (1972)
There Was a Crooked Man... (1970)
The Honey Pot (1967)
Carol for Another Christmas (1964) (TV)
Cleopatra (1963)
Suddenly, Last Summer (1959)
The Quiet American (1958)
Guys and Dolls (1955/I)
The Barefoot Contessa (1954)
Julius Caesar (1953)
5 Fingers (1952)
People Will Talk (1951)
All About Eve (1950)
No Way Out (1950)
House of Strangers (1949)
A Letter to Three Wives (1949)
Escape (1948)
The Ghost and Mrs. Muir (1947)
The Late George Apley (1947)
Somewhere in the Night (1946)
Backfire (1946)
Dragonwyck (1946)