Chantal Akerman
06.06.1950, Bruxelles - 05.10.2015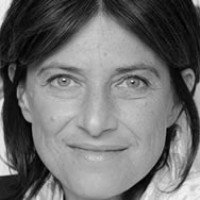 Akerman is a Belgian director famous for her idiosyncratic and deeply personal approach to experimental films. She usually portrays women in her films, questioning their identity and sexuality, and therefore has been labeled a feminist author, an epithet she rejects. As a fifteen-year-old, she was inspired by Jean-Luc Godard's film
Pierrot le fou
(1965). She studied at the Belgium film school INSAS and Université Internationale du Théâtre in Paris. She made her first film,
Saute ma ville
(1986), when she was eighteen. After spending a year in New York (1972-1973), she made her first feature length film
Je, tu, il, elle
(1974). Afterwards she made her most famous film
Jeanne Dielman, 23 Quai de commerce, 1080 Bruxelles
(1975). Her other films include
Les rendez-vous d\'Anna
(1978),
Golden Eighties
(1986),
Nuit et jour
(1991), a documentary called
Sud
(1999), an adaptation of Proust's novel
La captive
(2000) and
Demain, on déménage
(2004).
Filmography
No Home Movie (2015) (dokumentarni)
La folie Almayer (2011)
À l'Est avec Sonia Wieder-Atherton (2009) (TV, dokumentarni)
Women from Antwerp in November (2008) (kratkometražni)
O Estado do Mundo (2007) (omnibus, dio Tombée de nuit sur Shanghai)
Tamo dolje (Là-bas, 2006) (dokumentarni)
Sutra se selimo (Demain on déménage, 2004)
Avec Sonia Wieder-Atherton (2003) (TV, srednjemetražni dokumentarni)
De l'autre côté (2002) (dokumentarni)
Zarobljenica (La captive, 2000)
Jug (Sud, 1999) (dokumentarni)
Kauč u New Yorku (Un divan à New York, 1996)
S istoka (D'Est, 1993) (dokumentarni)
Ne zaboravimo (Contre l'oubli, 1991) (omnibus, dio Pour Febe Elisabeth Velasquez, El Salvador)
Noć i dan (Nuit et jour, 1991.)
Histoires d'Amérique (1989)
Trois strophes sur le nom de Sacher (1989) (kratkometražni)
Les trois dernières sonates de Franz Schubert (1989) (srednjemetražni)
Golden Eighties (1986)
Seven Women, Seven Sins (1986) (omnibus, dio Portrait d'une Paresseuse)
La paresse (1986) (kratkometražni)
Le marteau (1986) (kratkometražni)
Mallet-Stevens (1986) (kratkometražni)
Letters Home (1986)
Paris vu par... 20 ans après (1984) (omnibus, dio J'ai faim, J'ai froid)
New York, New York bis (1984) (kratkometražni)
Lettre d'un cinéaste: Chantal Akerman (1984) (TV, kratkometražni)
J'ai faim, j'ai froid (1984) (kratkometražni)
Family Business: Chantal Akerman Speaks About Film (1984) (TV, kratkometražni)
Un jour Pina a demandé... (1983) (TV, srednjemetražni dokumentarni)
Osamdesete (Les années 80, 1983) (dokumentarni)
L'homme à la valise (1983) (TV)
Cijelu noć (Toute une nuit, 1982)
Dis-moi (1980) (TV, srednjemetražni)
Susreti s Anom (Les rendez-vous d'Anna, 1978)
Novosti od kuće (News from Home, 1977) (dokumentarni)
Jeanne Dielman, 23, quai du Commerce, 1080 Bruxelles (1975)
Ja ti on ona (Je, tu, il, elle, 1974)
Hanging Out Yonkers (1973) (kratkometražni)
Le 15/8 (1973) (srednjemetražni, koredateljica)
Hôtel Monterey (1972) (dokumentarni)
La chambre (1972) (kratkometražni)
L'enfant aimé ou je joue à être une femme mariée (1971) (kratkometražni)
Raznesi moj grad (Saute ma ville, 1968) (kratkometražni)