Shinji Aoyama
13.07.1964, Kitakyushu, Japan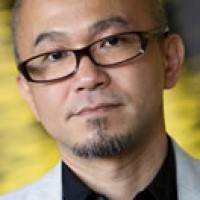 Aoyama is a Japanese screenwriter, composer and writer. He got interested in film after watching Coppola's
Apocalypse Now
(1979) and Godard's
Crazy Pete
(1965) and
Two or Three Things I Know About Her
(1967). He graduated from the Rikkyo University and had his first experiences on film sets as assistant director, mostly assisting to Kiyoshi Kurosawa on his films
Jigoku no keibîn
(1992),
Katte ni shiyagare! Goudatsu-keikaku
(1995) and
Katte ni shiyagare!! Dasshutsu keikaku
(1995), as well as to Fridrik Thór Fridriksson on his international co-production
Á köldum klaka
(1995). His directing debut was the film
Kyôkasho ni nai!
(1995), shot on video. He made his first feature film
Helpless
for distribution in film theaters in 1996. The next film that brought him attention, a FIPRECI award and the award of the ecumenical jury at the Cannes Film Festival in 2000
Yurîka
(Eureka, 2000). Both films together with a
Sad Vacation
(2007) form sort of a Kitakyushu saga. Some of his other films are the drama
Desert Moon
(Tsuki no sabaku, 2001), mystery
Lakeside Murder Case
(Reikusaido mâdâ kêsu, 2004), sci-fi
My God, My God, Why Hast Thou Forsaken Me?
(Eri Eri rema sabakutani, 2005), drama
Tôkyô kôen
(2011) that won the Golden Leopard in 2011, and drama
The Backwater
(Tomogui, 2013). He also made short features and documentary films. Besides directing and writing screenplays, from 2000, he has started to write film critiques. In that same year he wrote his first novel Eureka, based on his own film. Afterwards, he wrote and published ten more novels.