Arthur Penn
27.09.1922, Philadelphia, Pennsylvania, USA - 28.09.2010, Manhattan, New York, USA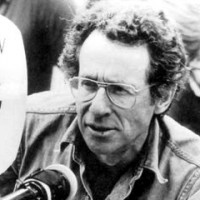 Penn is an American film and theatre director. His mother was a nurse, and his father a watch repairman. His older brother Irving Penn became a famous fashion photographer. As a young man he worked in his father's watch shop for a little while, but as a high school student developed an interest in the theatre. In 1943, he was drafted into the military and founded a theatre troupe in Fort Jackson, South Carolina, where he was stationed. He was later sent to Europe and in Paris started to direct plays for soldiers. In a short time, he got interested in film as well. Upon returning to America he used the veteran's scholarship to enroll in Black Mountain College in South Carolina. He continued his education in Italy and returned to the US in 1948, when he got interested in the acting method used by Konstantin Stanislavski and learned from his student Michael Chekhov in Los Angeles. Upon his return to New York, he got a job at the NBC TV station for which he later worked as a director. By 1958, he had already directed many TV series but then moved on to feature films. His feature film debut was the western
The Left Handed Gun
(1958) starring Paul Newman. His second film, a drama about the deaf, dumb and blind Hellen Keller and her teacher Annie Sullivan,
The Miracle Worker
(1962) brought the two actresses, Anne Bancroft and Patty Duke, Oscars as Best Leading and Best Supporting Actress. Penn has previously directed the theatre play based on the same drama starring the same actresses. He has also previously worked with Anne Bancroft on the play
Two for the Seesaw
, her debut on Broadway, and the first collaboration between William Gibson and Penn. Gibson wrote
The Miracle Worker
, and collaborated with Penn on the theatre and film production as well as one TV series before that in 1957. In that period, Penn directed many successful plays on Broadway. In 1964, he directed the war drama
The Train
, but after only three days and misunderstandings with the leading man, Burt Lancaster, he was fired and replaced by John Frankenheimer who was more to Lancaster's taste. His third film
Mickey One
(1965) with Warren Beatty was made under the influence of the French New Wave. His next film, thriller
The Chase
(1966) starring Marlon Brando and Robert Redford, was taken away from him by the producer Sam Spiegel and reedited. Bitter and furious, Penn returned to Broadway and directed the thriller
Wait Until Dark
with Lee Remick and Robert Duvall. He returned to Hollywood upon Warren Beatty's insistance and offered to direct
Bonnie and Clyde
(1967), the film that managed to provoke censorship with its scenes of violence, as much as it depicted the true spirit of its time. It soon became a cult film. After the TV drama
Flesh and Blood
(1968) he directed the comedy
Alice's Restaurant
(1969), then the western
Little Big Man
(1970) with Dustin Hoffman and Faye Dunaway. In 1973, he directed one segment in the documentary omnibus
Visions of Eight
for the Olympic Games. He worked with Gene Hackman on his next film, thriller Night Moves (1975), then again with Marlon Brando in the humorous western
The Missouri Breaks
(1976) also starring Jack Nicholson. In the drama
Four Friends
(1981) he successfully portrayed the atmosphere of the 1960s but the film was not popular with the audiences or critics alike. His next projects had the same destiny: another thriller with Hackman
Target
(1985), horror/thriller
Dead of Winter
(1987) and the comedy
Penn & Teller Get Killed
(1989). Afterwards he returned to TV work and directed two more feature films
The Portrait
(1993) with Gregory Peck and Lauren Bacall and
Inside
(1996): he was the executive producer of the well-known TV series
Law and Order
(2000-2001), whose many episodes were directed by his son Matthew Penn.
Filmography
100 Centre Street (TV series) (2001)
Inside (TV film) (1996)
Lumière and Company (documentary) (1995)
The Portrait (TV film) (1993)
Penn & Teller Get Killed (1989)
Dead of Winter (1987)
Target (1985)
Four Friends (1981)
The Missouri Breaks (1976)
Night Moves (1975)
Visions of Eight (documentary) (segment The Hightest) (1973)
Little Big Man (1970)
Alice's Restaurant (1970)
Flesh and Blood (TV film) (1968)
Bonnie and Clyde (1967)
The Chase (1966)
Mickey One (1965)
The Miracle Worker (1962)
The Left Handed Gun (1958)
Playhouse 90 (TV series) (1957-1958)
Playwrights '56 (TV series) (1955-1956)
The Philco Television Playhouse (TV series) (1953-1955)
Producers' Showcase (TV series) (1954-1955)
Goodyear Television Playhouse (TV series) (1953-1955)
Justice (TV series) (1954)
The Gulf Playhouse (TV series) (1953)