Roberto Artiagoitía
Chile, 1969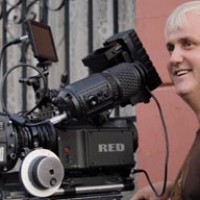 Gosho was a Japanese director, who made many films from the mid-1920's to the end of the 1960s. He began his career in 1923 as assistant director to Shimazu Yasujiru in the Shōchiku film studio. Shimazu was one of the founders of the
shōshimingeki
genre that focused on stories about people from the lower and middle classes, which also became one of Gosho's trademarks. In his first films, he often focused on characters with physical or mental handicaps (
The Villiage Bride
/ Mura no hanayome, 1928). Even though these films are highly appreciated these days, at the time he was severely criticized and so he changed his themes. Among his most important films are
Lonely Hoodlum
(Sabishiki ranbomono, 1927),
The Neighbor's Wife and Mine
(Madamu to nyobo, 1931), the first complete sound films in Japan,
Dancer of Izu
(Koi no hana saku Izu no odoriko, 1933) that was shot as a silent film; the comedies
The Bride Talks in Her Sleep
(Hanayome no negoto, 1933) and
The Bridegroom Talks in His Sleep
(Hanamuko no negoto, 1935), drama
Woman in the mist
(Oboroyo no onna, 1936). In 1941, he joined the Daiei studio, but during the war he shot only four films, dissatisfied with the political limitations of propaganda films. He directed the romantic drama
One More Time
(Ima hitotabi no, 1947) and
Dispersed Clouds
(Wakare-gumo, 1951) and in that same year founded his own production house, Studio 8 Productions. In 1953, he won a special award for peace in Berlin for his film
The Four Chimneys
(Entotsu no mieru basho, 1953). The most important films from his later period are
An Inn at Osaka
(Osaka no yado, 1954),
Yellow Crow
(Kiiroi karasu, 1957),
Elegy of the North
(Aijo no keifu, 1961),
Woman of Osore Mansion
(Osorezan no onna, 1965). Due to his humanist approach and compassionate portrayals of the everyday lives of common people, the term
Goshoism
, referring to a bitter-sweet style of storytelling, became popular among Japanese film critics.