Sandrine Bonnaire
31.05.1967, Gannat, France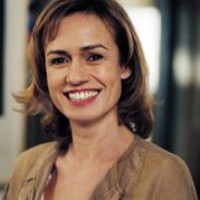 Bonnaire is one of the best French actresses of her generation. She was born to a large family as the seventh of eleven children. She began her acting career at the age of sixteen starring in Maurice Pialat's
À nos amours
(1983). In 1984, she won the
César
for the Most Promising Actress for that role. Afterwards she played in less successful films
Tir à vue
(1984),
Blanche et Marie
(1985),
Le meilleur de la vie
(1985) and
Police
(1985). Thanks to her role as Mona in Agnès Varda's drama
Vagabond
(Sans toit ni loi, 1985), Sandrine won over international critics and audiences alike. The film won the
Golden Lion
and the
FIPRESCI
award in Venice in 1985. She won another
César
, this time as Best Actress, in 1986. Her next important roles include those in films
Under the Sun of Satan
(Sous le soleil de Satan, 1987) by Maurice Pialat starring opposite Gérard Depardieu and the crime drama
Monsieur Hire
(1989) by Patrice Leconte. She starred opposite Marcello Mastroianni in the drama
Towards Evening
(Verso sera, 1991), and in 1992, opposite William Hurt in Albert Camus' film adaptation of his novel
The Plague
(La peste) directed by Luis Puenza. Hurt and her fell in love and got married soon after the film was finished. They starred together in
Secrets Shared with a Stranger
(1995) by Georges Bardawil. Sandrine starred as Jeanne D'Arc in the historical films by Jacques Rivette
Jeanne la Pucelle I - Les batailles
(1994) and
Jeanne la Pucelle II - Les prisons
(1994). She starred opposite Isabelle Huppert in the acclaimed
La cérémonie
(1995) by Claude Chabrol, and they both won the
Volpi Cup
award at the Venice Film Festival in 1995. She worked again with Jacques Rivette on the crime drama
Secret défense
(1998), afterwards played opposite Emmanuelle Béart in the drama
Stolen Life
(Voleur de vie, 1998). She worked again with Claude Chabrol on the crime drama
The Color of Lies
(Au coeur du mensonge, 1999), then starred in the international co-production, historical drama
Est – Ouest
(1999) by Régis Wargnier, romantic drama
Mademoiselle
(2001),
The Light
(L'équipier, 2004) by Philippea Lioreta and
Intimate Strangers
(Confidences trop intimes 2004) on which she again worked with the director Patrice Leconte. Some of her latest films are the romantic drama
Could This Be Love?
(Je crois que je l'aime, 2007) by Pierre Jolivet,
A Simple Heart
(Un coeur simple, 2008) by the director Marion Laine based on Gustave Flaubert's short story and drama
Joueuse
(2009) by Caroline Bottaro. Besides acting, she successfully directed a documentary
Her Name Is Sabine
(Elle s'appelle Sabine, 2007) about her autistic sister. In 2012, she plans to direct a feature film starring her ex-husband William Hurt (in 2003 she remarried to the screenwriter Guillaume Laurant).
Filmography
Monet, la lumière blanche (pretprodukcija) (2011)
Joueuse (2009)
Angel of Mine (2008)
A Simple Heart (2008)
Demandez la permission aux enfants (2007)
Could This Be Love? (2007)
Dix films pour en parler (kratkometražni, glas) (2007)
Le procès de Bobigny (TV film) 2006)
The Light (2004)
The Giraffe's Neck (2004)
Intimate Strangers (2004)
Resistance (2003)
La maison des enfants (mini TV serija) (2003)
Femme Fatale (2002)
C'est la vie (2001)
Mademoiselle (2001)
Est - Ouest (1999)
The Color of Lies (1999)
Stolen Life (1998)
Secret défense (1998)
Une femme en blanc (mini TV serija) (1997)
Debt of Love (1997)
Never Ever (1996)
Lumière sur un massacre (TV serija, nastavak La lettre) (1996)
La lettre (TV film) (1996)
Secrets Shared with a Stranger (1995)
La Cérémonie (1995)
Les cent et une nuits de Simon Cinéma (1995)
Jeanne la Pucelle II - Les prisons (1994)
Jeanne la Pucelle I - Les batailles (1994)
Prague (1992)
The Plague (1992)
Le ciel de Paris (1991)
Towards Evening (1991)
La bonne âme du Setchouan (TV film) (1990)
La captive du désert (1990)
Peaux de vaches (1989)
Monsieur Hire (1989)
A Few Days with Me (1988)
Jaune revolver (1988)
Les innocents (1987)
Under the Sun of Satan (1987)
La puritaine (1986)
Vagabond (1985)
Police (1985)
Le meilleur de la vie (1985)
Blanche and Marie (1985)
Tir à vue (1984)
À nos amours (1983)
La boum 2 (nepotpisana) (1982)
Les sous-doués en vacances (nepotpisana) (1982)