Louise Brooks
14.11.1906, Cherryvale, USA - 08.08.1985, New York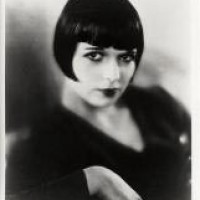 Brooks was a famous American actress from the silent era. Beginning in her childhood she learned how to dance and, thanks to her dancing, she left Kansas for New York. For some time she danced on Broadway with the Ziegfeld Follies, and afterwards in 1925 signed a contract with Paramount studios. She acted in films such as
It\'s the Old Army Game
(1926),
A Girl in Every Port
(1928), and
Beggars of Life
(1928), but neither the critics nor the film studios were very pleased with her acting skills. After she went to Berlin with the director Georg Wilhelm Pabst, she made
Pandora's Box
(Die Büchse der Pandora, 1929) and
Diary of a Lost Girl
(Das Tagebuch einer Verlorenen, 1929), and everything changed. Thanks to her exotic beauty and characteristic bob haircut (which was later on often copied) she gained enormous popularity and many fans and finally received recognition for her work. Brooks was very independent and open-minded, not the least bit obsessed by glamour, and she refused to return to Hollywood in order to record the sound for the previously made silent film
The Canary Murder Case
(1929). As a consequence of her refusal to come back, Hollywood put her on the black list and sabotaged her career. After making
Prix de beauté
(1930) she returned to USA, but there she could only get supporting roles. Her last film was a western
Overland Stage Raiders
(1938) in which she appeared only for the money. Her salary for that film was $300, and she spent the next two decades in complete anonymity working as an accountant and salesgirl. Afterwards she began to write and published many articles on film and her autobiography
Lulu in Hollywood
.
Filmography
Filmography (as actress):

Overland Stage Raiders (1938)
When You're in Love (1937)
Empty Saddles (1936)
God's Gift to Women (1931)
It Pays to Advertise (1931)
Prix de beauté (Miss Europe) (1930)
Diary of a Lost Girl (Das Tagebuch einer Verlorenen, 1929)
The Canary Murder Case (1929)
Pandora's Box (Die Büchse der Pandora, 1929)
Beggars of Life (1928)
A Girl in Every Port (1928)
The City Gone Wild (1927)
Now We're in the Air (1927)
Rolled Stockings (1927)
Evening Clothes (1927)
Ten Years Old (1927)
Just Another Blonde (1926)
The Show Off (1926)
It's the Old Army Game (1926)
A Social Celebrity (1926)
Love 'Em and Leave 'Em (1926)
The American Venus (1926)
The Street of Forgotten Men (1925)

Louise Brooks Programme