Daniel Burman
29.08.1973, Buenos Aires, Argentina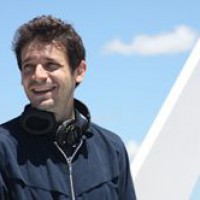 Burman is an Argentinean producer, director and screenwriter of Polish-Jewish origin. He studied law but then decided to enroll in studies of audiovisual media production. In 1995, together with Diego Dubcovsky he founded the BD Cine production house and directed the feature drama
A Crysanthemum Bursts in Cincoesquinas
(Un crisantemo estalla en cinco esquinas, 1998). His trilogy
Un crisantemo estalla en cinco esquinas
(Esperando al mesías, 2000),
Lost Embrace
(El abrazo partido, 2003) and
Family Law
(Derecho de familia, 2006), which he directed and wrote the screenplay for, is sort of an autobiography that tells the story of a young Jew living in contemporary Buenos Aires.
Lost Embrace
(2003) won the Silver Bear in Berlin in 2004. His other films include the romantic comedy
Every Stewardess Goes to Heaven
(Todas las azafatas van al cielo, 2002) and drama
Empty Nest
(El nido vacío, 2008) and
Brother and Sister
(Dos Hermanos, 2010).