Nae Caranfil
07.09.1960, Bucharest, Romania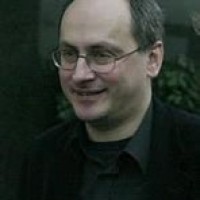 Director and screenwriter, son of the famous Romanian film historian and critic Tudor Caranfil. Graduated in 1984 at the Caragiale Academy of theatrical arts and cinematography (UNATC) in his home town of Bucharest. During 1980s he made short films such as
Venice in September
(1983),
Thirty Years of Insomnia
(1984),
Backstage
(1988). His feature debut was
Sundays on Leave
(1993). In his next film,
Asphalt Tango
(1996) he worked with Charlotte Rampling. He made
Dolce far niente
(1998) as an international coproduction, but the film didn't do well. However, a huge success with both critics and the audience was his film
Philanthropy
(2002).
The Rest is Silence
(Restul e tacere, 2007) won many Romanian Gopos awards, including the ones for best feature and screenplay in 2009. The film was also chosen as the Romanian candidate for Oscar in the category best foreign feature. At the moment his film
Closer to the Moon
is in post production.