José Corbacho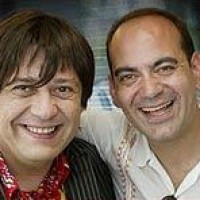 José Corbacho
(L'Hospitalet de Llobregat, Barcelona, Spain, December 12, 1965)
Corbacho worked as a director for TV and in theatre. Occasionally he had small roles in TV series and films. He co-directed and co-wrote the screenplay for his first feature film
Tapas
(2005) with Juan Cruz. This film is a tribute to the neighborhood in which both Corbacho and Cruz grew up: L'Hospitalet de Llobregat in Barcelona. Corbacho was a host, co-director and co-screenwriter of this year's Goya award ceremony. Currently, again with Cruz, he is making the film
Cobardes
(2007).
Juan Cruz
Cruz is a Spanish screenwriter, director and producer. He has written screenplays for TV series and directed the short film
El olor de las manzanas
(1999). He made his feature film debut
Tapas
(2005) in collaboration with José Corbacho. They are currently working together on
Cobardes
(2007).