Costa-Gavras Costa-Gavras
12.02.1933, Loutra-Iraias, Greece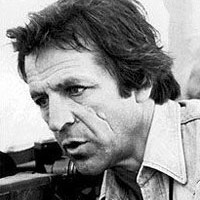 Costa-Gavras, originally Constantin Gavras, is a French director and screenwriter born in Greece. As a director he became famous for his politically engaged films as politics determined his life from his early age. During WW II his father was a member of the Greek resistance and fought the Nazis. After the war in the new regime his father was known as a Communist which prevented Costa-Gavras to move to the US where he wanted to study film. Instead of the US in 1951 he moved from Athens to Paris and began studying law. In 1956 he quit law and started studying film at the French National Film School (IDHEC). Afterwards he worked as assistant director to Henri Verneuil, Jacques Demy and René Clément. He made his directing debut with
The Sleeping Car Murders
(Compartiment tueurs, 1965). He won international acclaim and fame with the political thriller
Z
(1969) that won an Oscar and the Golden Globe as Best Foreign Film as well as the jury's award in Cannes in 1970. He continued to fight political oppression in his films
The Confession
(L' aveu, 1969),
State of Siege
(État de siege, 1973),
Special Section
(Section spéciale, 1975). In 1982 he made his first film in American production Missing (1982), starring Jack Lemmon and Sissy Spacek. Also in America he made
Betrayed
(1988) and
Music Box
(1989), after which he returned to European productions and worked on several film omnibuses. In 1997, again in America, he directed the well-known film
Mad City
(1997) starring Dustin Hoffman and John Travolta. He attracted great attention with his film
Eyewitness
(Amen, 2002) in which he questioned the connection between the Vatican and Nazism. His last film so far is the black comedy
The Ax
(Le couperet, 2005).
Filmography
Le couperet (2005)
Amen (2002)
Mad City (1997)
Lumiere et compagnie (1995) (segment)
A propos de Nice, la suite (1995) (segment Les Kankobals)
La petite apocalypse (1993)
Contre l'oubli (1991) (segment Pour Kim Song-man, Corée)
Music Box (1989)
Betrayed (1988)
Conseil de famille (1986)
Hanna K. (1983)
Missing (1982)
Clair de femme (1979)
Section spéciale (1975)
État de siege (1972)
L' aveu (1970)
Z (1969)
Un homme de trop (1967)
Compartiment tueurs (1965)