Dennis Hopper
17.05.1936, Dodge City, Kansas, USA - 29.05.2010, Venice Beach, California, USA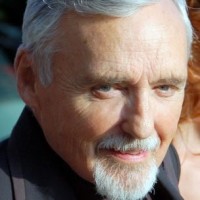 Photo: Georges Biard (CC BY-SA 3.0)
Hopper was an actor, director, photographer, painter and sculptor. Even though he was most famous for playing psychotic characters, he had a rich career with more than a hundred roles in small independent films as well as big productions and many TV series. Realizing early on that he wanted to be an actor, he started his career with small roles in TV series from the mid-1950s through the mid-1960s. He made his first small film debut in
Rebel Without a Cause
(1955) starring James Dean, with whom he played in
Giant
(1956). Then he had a small role in
Gunfight at the O.K. Corral
(1957), and also played Napoleon with the Marx Brothers in
The Story of Mankind
(1957). During the filming of
From Hell to Texas
(1958) he refused to listen to director Henry Hathaway's instructions and they had to repeat one particular scene 80 times. At that point, Hathaway told him that his career in Hollywood was over. Unable to find work in Hollywood, he moved to New York where he studied acting with Lee Strasberg and played in the theatre and some TV series. He returned to Hollywood in 1961, when he married Brooke Hayward, daughter of Hollywood producer and actress Margaret Sullavan. Thanks to her friendship with John Wayne, he got small roles in
The Sons of Katie Elder
(1965),
Cool Hand Luke
(1967) and
Hang 'Em High
(1968). Through his wife he met Peter Fonda and together with Terry Southern they wrote the screenplay for
Easy Rider
(1969), directed by Hopper and starring Hopper and Fonda as well as Jack Nicholson in a supporting role. Hopper won an award in Cannes as Best Debutant and the film gained cult status. Thanks to that success,
Universal Studios
financed Hopper's next film,
The Last Movie
(1971), which he starred in and directed in Peru. However, neither audiences nor critics liked the film and he had to go back to playing smaller roles again. From that period, his most important films include
The American Friend
(Der amerikanische Freund, 1977) by Wim Wenders and
Apocalypse Now
(1979) by Francis Ford Coppola. In 1980, he directed and starred in
Out of the Blue
. In the 1980s, after more than a decade of excessive consumption of alcohol and drugs, he decided to clean himself up and thus began the most fruitful period in his career, during which he became a serious and acclaimed character actor. His most important roles are in
River's Edge
(1986),
Blue Velvet
(1986),
Hoosiers
(1986),
Flashback
(1990),
The Indian Runner
(1991),
Red Rock West
(1993),
True Romance
(1993),
Speed
, (1994),
Basquiat
(1996),
Land of the Dead
(2005),
Elegy
(2008) and
Palermo Shooting
(2008). He starred in TV series
E Ring
(2005) and
Crash
(2008). He also directed the crime drama
Colors
(1988) and the noir thriller
Hot Spot
(1990). Besides his film career, he was a talented photographer, sculptor and painter and was also well known as a collector of contemporary art. He counted many of the artists whose work he collected among his friends. In his collection, there are works by Andy Warhol, Ed Ruscha and Julian Schnabel. At the end of 2009, he was diagnosed with prostate cancer from which he died in May 2010. On March 26, 2010 he received a star on the Hollywood Walk of Fame.
Filmography
Filmografija (kao glumac):
The Last Film Festival (2010)
An American Carol (2008)
Palermo Shooting (2008)
Swing Vote (2008)
Elegy (2008)
Sleepwalking (2008)
Hell Ride (2008)
Memory (2006)
10th & Wolf (2006)
Hoboken Hollow (2005)
Land of the Dead (2005)
The Crow: Wicked Prayer (2005)
Americano (2005)
House of 9 (2005)
The Last Ride (2004) (TV)
Out of Season (2004)
The Keeper (2004)
Legacy (2004)
The Night We Called It a Day (2003)
The Piano Player (2002)
Leo (2002)
Unspeakable (2002)
Firestarter 2: Rekindled (2002) (TV)
L.A.P.D.: To Protect and to Serve (2001)
Knockaround Guys (2001)
Choke (2001)
Ticker (2001)
Held for Ransom (2000)
Tycus (2000) (V)
Jason and the Argonauts (2000) (TV)
Luck of the Draw (2000)
The Spreading Ground (2000)
Michael Angel (2000)
Bad City Blues (1999)
The Venice Project (1999)
Jesus' Son (1999)
Straight Shooter (1999)
Edtv (1999)
The Prophet's Game (1999)
Lured Innocence (1999)
Justice (1999/II) (TV) (nepotpisan)
Meet the Deedles (1998)
Top of the World (1998)
Black Dahlia (1998) (VG)
Road Ends (1997)
The Blackout (1997)
The Making of 'Super Mario Brothers' (1997) (TV)
The Good Life (1997)
Samson and Delilah (1996) (TV)
The Last Days of Frankie the Fly (1996)
Basquiat (1996)
Space Truckers (1996)
Carried Away (1996)
Waterworld (1995)
Search and Destroy (1995)
Witch Hunt (1994) (TV)
Speed (1994)
Chasers (1994)
True Romance (1993)
Red Rock West (1993)
Super Mario Bros. (1993)
Boiling Point (1993/I)
The Heart of Justice (1992) (TV)
Sunset Heat (1992)
Nails (1992) (TV)
Eye of the Storm (1991)
Doublecrossed (1991) (TV)
The Indian Runner (1991)
Paris Trout (1991)
Catchfire (1990)
Flashback (1990/I)
Chattahoochee (1989)
Blood Red (1989)
The Pick-up Artist (1987)
Straight to Hell (1987)
Black Widow (1987)
Running Out of Luck (1987)
Hoosiers (1986)
Blue Velvet (1986)
River's Edge (1986)
The Texas Chainsaw Massacre 2 (1986)
Stark: Mirror Image (1986) (TV)
The American Way (1986)
My Science Project (1985)
Stark (1985) (TV)
O.C. and Stiggs (1985)
A Hero of Our Time (1985) (nepotpisan)
Slagskämpen (1984)
Euer Weg führt durch die Hölle (1984) (nepotpisan)
White Star (1983)
The Osterman Weekend (1983)
Rumble Fish (1983)
Neil Young: Human Highway (1982)
King of the Mountain (1981)
Reborn (1981)
Out of the Blue (1980)
Las flores del vicio (1979)
Apocalypse Now (1979)
L'ordre et la sécurité du monde (1978)
Couleur chair (1978)
Les apprentis sorciers (1977)
Der amerikanische Freund (1977)
Tracks (1977)
Mad Dog Morgan (1976)
Kid Blue (1973)
Crush Proof (1972)
The Other Side of the Wind (1972)
The Last Movie (1971)
True Grit (1969)
Easy Rider (1969)
Head (1968) (nepotpisan)
Panic in the City (1968)
Hang 'Em High (1968)
The Glory Stompers (1968)
Cool Hand Luke (1967)
The Trip (1967)
Queen of Blood (1966)
The Sons of Katie Elder (1965)
Tarzan and Jane Regained... Sort of (1964)
The Thirteen Most Beautiful Boys (1964)
Night Tide (1961)
Key Witness (1960)
The Young Land (1959)
Swiss Family Robinson (1958) (TV)
From Hell to Texas (1958)
Sayonara (1957) (glas) (nepotpisan)
The Story of Mankind (1957)
Gunfight at the O.K. Corral (1957)
Giant (1956)
I Died a Thousand Times (1955) (nepotpisan)
Rebel Without a Cause (1955)