Obrad Gluščević
17.01.1913, Metković - 05.09.1980, Zagreb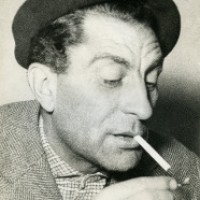 Gluščević began his career as an actor in the Dubrovnik theatre and made his directing debut with the reportage film
"Partizankom" do Buenos Airesa
(1947). He directed short features and documentaries that won awards in Venice, Cannes, Oberhausen and Belgrade. Some of his most famous documentaries are
Između dvije prozivke
(1959),
Pod ljetnim suncem
(1961),
Vuk
(1962) and
Ljudi s Neretve
(1966). In the early 1960's he began making feature films. His debut was the children's short film
Priča o djevojčici i sapunu
(1962). Afterwards, he made three features, comedies that depict the life and mentality of the Dalmatian region:
Lito vilovito
(1964),
Čovik od svita
(1965) and
Goli čovik
(1968). After that he made two children's films in which he showed great talent at working with children:
Vuk samotnjak
(1972) and
Kapetan Mikula Mali
(1974), which he edited into a TV series in 1976. He is the author of the TV series for children
Jelenko
(1980, in Bosnian and Herzegovinian production).
Filmography
Jelenko (1980) (TV series)
Kapetan Mikula Mali (1976) (TV series)
Kapetan Mikula Mali (1974)
Zemlja - grupa slikara (1973)
Vuk samotnjak (1972)
Kraljica salama (1972) (documentary)
Brđani i donjani (1969) (documentary)
Na zimskom suncu (1969) (documentary)
Goli čovik (1968)
Ljudi s neretve (1966) (documentary)
Čovik od svita (1965)
Lito vilovito (1964)
Priča o djevojčici i sapunu (1962) (short feature)
Vuk (1962) (documentary)
Pod ljetnim suncem (1961) (documentary)
Između dvije prozivke (1959) (documentary)
Bura (1958) (documentary)
Dan odmora (1957)
Pjesnik života (1955) (documentary)
Izložba srednjovjekovne umjetnosti naroda Jugoslavije (1951) (documentary)
Bez međaša (1950) (documentary)
Mladi kadrovi mornarice (1950)
Sa \'Partizankom\' do Buenos Airesa (1948)


Documentaries by Obrad Gluščević
Program of short films by Obrad Gluščević