Jean-Pierre Melville
20.10.1917, Paris, France - 02.08.1973, Paris, France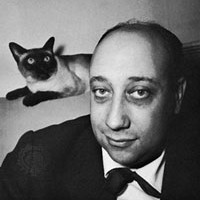 Jean-Pierre Melville, whose real name was Jean-Pierre Grumbach, was a French director, screenwriter and producer. He started to work on films as a teenager and made his first professional films during WW II. His debut was the short film
Vingt-quatre heures de la vie d'un clown
(1945), and his first feature film was the film version of Jean Cocteau's novel
The Strange Ones
(Les enfants terribles, 1950). His gangster films
Bob the Gambler
(Bob le flambeur, 1956),
The Finger Man
(Le doulos, 1962),
Second Breath
(Le deuxičme souffle, 1966),
The Godson
(Le samourai, 1967),
The Red Circle
(Le cercle rouge, 1970) and
Dirty Money
(Un flic, 1972) are very popular. As a director he had a strong influence on the French New wave and its directors even though he himself never wanted to be regarded as a member of any movement. Besides gangster films, he directed three war films whose action takes place at the time of the Nazi occupation of France: his first feature film
Le silence de la Mer
(1949),
Leon Morin, Priest
(Léon Morin, prętre, 1961) and
Army in the Shadows
(L' armée des ombres, 1969). The action of his other two films
Two Men in Manhattan
(Deux hommes dans Manhattan, 1959) and
An Honorable Young Man
(L' aîné des Ferchaux, 1963) is set in America.