Michael Powell
30.09.1905, Bekesbourne, Great Britain - 19.02.1990, Avening, Great Britain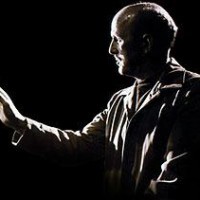 Michael Powell is a British director, producer, scriptwriter and writer. He studied at Dulwich College after which he found a job in a bank. In 1926 director Harry Lachman got him a job in the film crew of Rex Ingram's film Mare Nostrum. Lachman introduced him to the British cinema and he started
working for him in the Elstree Studios. At that time he also cooperated with the famous Alfred Hitchcock. In 1931 he took on directing. By 1940 he got himself a name with low budget movies of various genres. After The Edge of the World (1937) Powell joined scriptwriter Emeric Pressburger on the film The Spy in Black. Powell shot another two movies on his own, among which
was the lavish Thief of Baghdad, 1940. Powell and Pressburger became associates in 1941 and founded production studio The Archers in 1943. Powell stood out as director, while Pressburger was a more dominant scriptwriter. Their most famous creations were The Life and Death of Colonel Blimp (1943), A Canterbury Tale (1944), I Know Where I'm Going (1945), A Matter of Life and Death (1946), Black Narcissus (1947), Red Shoes (1948), Gone to Earth (1948), Small Back Room (1949), and Tales of Hoffmann (1951). After several commercial failures, in 1956 Powell decided to go his own way. In 1960 he shot his most important film, Peeping Tom. After 1974 he withdrew from the movies, but continued
directing on the TV and published several novels. From 1944 to 1952 he did some stage directing. For a short period he acted as an artistic consultant and production manager of Francis Ford Coppola's production studio Zoetrope (after 1980).
Filmography
Return to the Edge of the World (1978)
The Boy Who Turned Yellow (1972)
Age of Consent (1969)
They're a Weird Mob (1966)
Herzog Blaubarts Burg (1964)
The Queen's Guards (1961)
Peeping Tom (1960)
Luna de miel (1959)
Ill Met by Moonlight (1957)
The Battle of the River Plate (1956)
Oh... Rosalinda!! (1955)
The Sorcerer's Apprentice (1955)
The Wild Heart (1952)
The Tales of Hoffmann (1951)
Gone to Earth (1950)
The Elusive Pimpernel (1950)
The Small Back Room (1949)
The Red Shoes (1948)
Black Narcissus (1947)
A Matter of Life and Death (1946)
I Know Where I'm Going! (1945)
A Canterbury Tale (1944)
The Volunteer (1943)
The Life and Death of Colonel Blimp (1943)
One of Our Aircraft Is Missing (1942)
An Airman's Letter to His Mother (1941)
Forty-Ninth Parallel (1941)
Contraband (1940)
The Thief of Bagdad (1940)
Smith (1939)
The Lion Has Wings (1939)
The Spy in Black (1939)
The Edge of the World (1937)
The Man Behind the Mask (1936)
Crown Vs. Stevens (1936)
The Brown Wallet (1936)
Her Last Affaire (1936)
Some Day (1935)
The Price of a Song (1935)
The Phantom Light (1935)
The Night of the Party (1935)
The Love Test (1935)
Lazybones (1935)
Red Ensign (1935)
The Girl in the Crowd (1935)
Something Always Happens (1934)
The Fire Raisers (1934)
Born Lucky (1933)
His Lordship (1932)
C.O.D. (1932)
Hotel Splendide (1932)
The Star Reporter (1932)
Rynox (1932)
The Rasp (1932)
My Friend the King (1932)
Two Crowded Hours (1931)