Wolfgang Staudte
09.10.1906, Saarbrücken, Germany - 19.01.1984, Maribor, Slovenia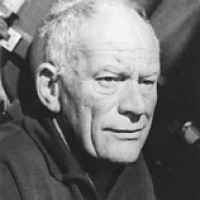 Staudte is a German director, screenwriter and actor, born to a family of actors. He studied engineering but soon afterwards started to act in a Berlin theater. He worked with Max Reinhardt and Erwin Piscator between 1926 and 1932. Due to performing in dramas with "anti-Nazi tendencies" in 1933, he was forbidden to appear in theater plays. At that time he began making short and commercial films and acting in films. He directed his first feature film
Akrobat Schööön!
in 1943. His next film,
Der Mann, dem man den Namen stahl
(1944), was banned by the Nazis and he was sent to fight in the war. Producer Heinrich George saved him from the battlefield by hiring him to direct
Frau über Bord
(1945). In 1946, he made
The Murderers Are Among Us
(Die Mörder sind unter uns), the first German film made after WW II, produced by the recently formed DEFA (Deutsche Film-Aktiengesellschaft) Studio. In the same studio, he made his next film
Man of Straw
(Der Untertan, 1951) based on Heinrich Mann's novel and the internationally successful children's film
The Story of Little Mook
(Die Geschichte vom kleinen Muck, 1953). After his film
Rotation
(1949), which deals the problem of Nazism, he had problems with the government and after a quarrel with Bertolt Brecht about the film adaptation of his drama
Mother Courage and Her Children
he decided to continue his career in West Germany. In that later period he made
Ciske de Rat
(1955),
Roses for the Prosecutor
(Der MaRosen für den Staatsanwalt, 1959),
The Fair
(Kirmes, 1960) and
Stag Party
(Herrenpartie, 1964). After 1970, he worked exclusively in television.