Nikola Tanhofer
25.12.1926, Sesvete - 24.11.1998, Zagreb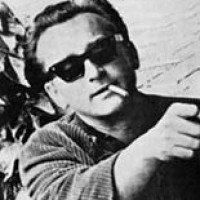 Nikola Tanhofer started to work on film at seventeen years old as a member of the amateur film club
Romanija
. He studied at the
University of Philosophy
, and
after WW II worked as a laboratory technician, sound recording technician,
cinematographer, and reporter. In 1949, he started to work more intensely as a
cinematographer of feature and short films. He made his debut as a
cinematographer in the film
Zastava
(1949) by Branko Marjanović in which he immediately achieved international standing. For the first time in
former Yugoslavia, he used the so-called backward projection. After several
successful projects as a cinematographer -
Plavi devet
(1950)
, Ciguli
Miguli
(1952),
Sinji galeb
(1953),
Opsada
(1956) – he made his
directing debut with the film
Nije bilo uzalud
(1957). In 1958, he made
his most famous film
H-8
. In that same year, he made the film
Klempo
,
one of the first color Croatian films. Until 1970, when he made his last film

Bablje ljeto
, he had realized five other films. In 1969, he founded the
department for film and television cinematography at the
Academy of Drama
Arts
in Zagreb, where he had taught for years. He published the book

Filmska fotografija
(1981) and the study
O boji
(1997). He won many awards, such as
Vjesnik's
award
Krešo Golik
for a lifetime achievement in film arts.
Filmography
Bablje ljeto (1970)
Ključ (1965) (cinematographer)
Svanuće (1964)
Dvostruki obruč (1963)
Sreća dolazi u 9 (1961)
Osma vrata (1959)
Klempo (1958)
H-8 (1958)
Nije bilo uzalud (1957)
Opsada (1956) (cinematographer)
Ogledalo (1955) (cinematographer)
Sinji galeb (1953) (cinematographer)
Ciguli Miguli (1952) (cinematographer)
Plavi 9 (1950) (cinematographer)
Zastava (1949) (cinematographer)