Lordan Zafranović
11.02.1944, Maslinica na Šolti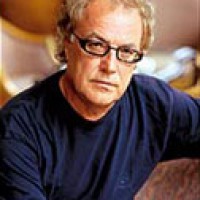 He took a degree in literature and art history from the Academy of Pedagogy in Split. He later studied film direction at FAMU in Prague, where he graduated in 1981. He started his opus in 1961 with amateur, mostly feature experimental films
Dnevnik, Priča, Dah, Kišno
i
Portreti /u prolazu/
, for which he won awards at home and abroad. In 1965 he made his first professional films, such as
Ave Marija
and
Prvi valcer
(The First Waltz) (both 1971) and documentaries
Antika
(1972),
Rad zida grad
(It\\\'s Hard Work to Build a City, 1975) and
Krv i pepeo Jasenovca
(1983). He made his feature film debut with
Nedjelja
(Sunday, 1969), followed by
Kronika jednog zločina
(Chronicle of a Crime, 1973; won an award in Chicago) which is a compilation of his three short films, and
Muke po Mati
(Passion According to Matthew, 1975; won the critics' award at the Pula film festival). In 1978, he started his war trilogy with the film
Okupacija u 26 slika
(Occupation in 26 Pictures) that won the Great Golden Arena in Pula. It was followed by the other two sequels
Pad Italije
(The Fall of Italy, 1981, Great Golden Arena in Pula) and Večernja zvona (1986, award for the best director in Pula). Afterwards he made films with love themes
Ujed anđela
(1984) and
Haloa - Praznik kurvi
(1988). Sort of a synthesis of Zafranović's complete work is the documentary
Zalazak stoljeća/Testament L. Z.
(The Decline of the Century: Testament L.Z., 1994).
Program I
Special program
Program FAS I /short films