Zlatko Bourek
04.09.1929, Slavonska Požega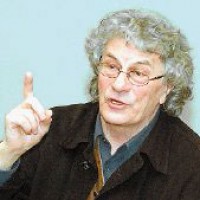 Bourek is a painter, director and drawer of animated films, film and theatre director, costume and set designer. He graduated from the Academy of Fine Arts in Zagreb. He began to work in animation in 1954, starting as a set designer (
Nestašni robot
(The Playful Robot), 1956. and
Happy End
, 1958, by Dušan Vukotić;
Inspektor se vratio kući
(The Inspector Is Back!), 1959 by Vatroslav Mimic, etc.). He is the author of many award-winning animated films (
Kovačev šegrt
, 1961, award at the festival in Belgrade,
I videl sam daljine meglene i kalne
, 1964, award in Belgrade and award of the City of Zagreb;
Kapetan Arbanas Marko
, 1967, awards in Oberhausen, Mamaja and Atlanta;
Mačka
, 1971, awards in Belgrade, Atlanta, Chicago and New York…).
He is the author of the short feature film Cirkus
Rex
from 1965 and a puppet film
Farsa
from 1974.
He has had many exhibitions and worked in theatre with great success.
Filmography
Wiener Blut (Pavao Štalter, Zlatko Bourek, 2014, 8')