Dogwatch
documentary, Greece, France, 2022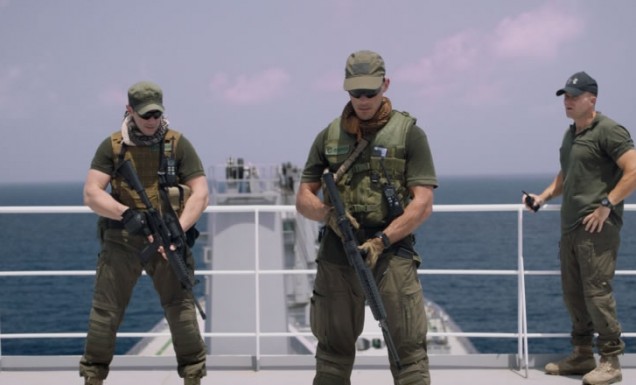 SCRIPT:
Gregoris Rantis
PHOTOGRAPHY:
Thomas Tsiftelis
EDITING:
Chronis Theocharis
Synopsis:

To safeguard the passage of goods through the so-called High Risk Area off the Somali coastline, privately-hired mercenaries are placed on board vessels to tackle the threat of modern maritime piracy.
Dogwatch unfolds in three chapters: Yorgos, a fresh recruit, having completed his training, craves to enter the High Risk Area, but has to first bide his time in the Sri Lankan port-town of Galle in what seems like an endless wait for his first transit. Seasoned Costa, at the peak of his career, embarks on yet another journey, hoping for an opportunity to prove his worth.
His own disillusionment reverberates with Victor, a veteran approach-ing retirement, who tests his toes on land only to feel estranged. While pursuing an office job opportunity, he takes on a young recruit. Men-toring him into an exemplary mercenary becomes his swan song of bravery. The three characters are woven into one, that of a mercenary who dedicates a lifetime of shifts in anticipation of making contact with the enemy – something his very presence renders almost impossible.
color, 78'