Maestro!
Maesutoro!, feature film, musical, drama, Japan, 2015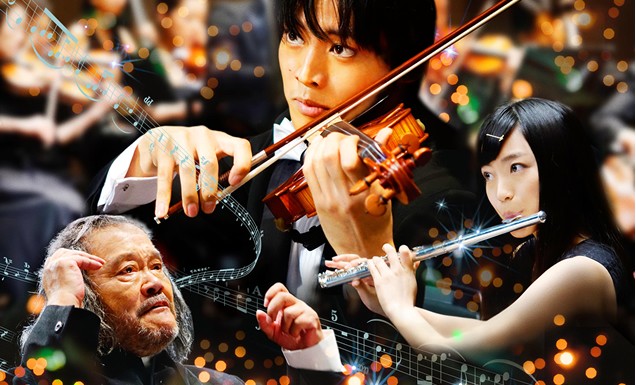 ©2015「Maestro!」Film's Partners/AKIRA SASO/FUTABASHA
CAST:
Tôri Matsuzaka (Shinichi Kousaka),
Miwa (Amane Tachibana),
Toshiyuki Nishida (Tetsusaburo Tendou),
Yutaka Matsushige (Hiroaki Soma),
Kyusaku Shimada (Shuzo Shimaoka)
SCRIPT:
Satoko Okudera,
Akira Saso (manga)
PHOTOGRAPHY:
Motonobu Kiyoku
Synopsis:

Due to lack of finances a musical orchestra stopped working but there is rumor about its revival. Some of its former members gather and try to start playing. However, they have not practiced in a long time and sound terrible. Then a new conductor Tetsusaburo Tendou appears. They don't know anything about him and are quite skeptical. However, they decide to give him a chance. Slowly the musicians renew their musical skills and regain their self-esteem.
color, digital, 129 min