Blind willow, sleeping woman
Saules aveugles, femme endormie, animated, Canada, France, 2023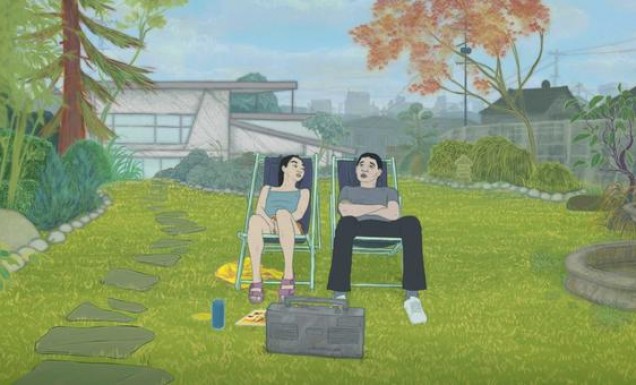 CAST:
Amaury de Crayencour (Komura - glas),
Mathilde Auneveux (Kyoko - glas),
Arnaud Maillard (Katagiri - glas),
Pierre Földes (žaba - glas)
SCRIPT:
Pierre Földes based on stories by Haruki Murakami
MUSIC:
Pierre Földes
EDITING:
Kara Blake
Synopsis:

Tokyo, a few days after the 2011 earthquake and tsunami.
Kyoko suddenly leaves her husband after spending five days in a row glued to unfolding earthquake footage on TV. Her helpless husband Komura takes a week's leave from work and heads north to deliver a box and its unknown contents to two young women.
His colleague Katagiri, a simple debt collector by profession and an awkward loner in life, returns home one evening to find a two-metre-tall frog asking for his help to save Tokyo from an imminent earthquake. An enigmatic adaptation of a short story collection by Haruki Murakami.
color, 100'