Tove
feature film, biographical drama, Finland, 2020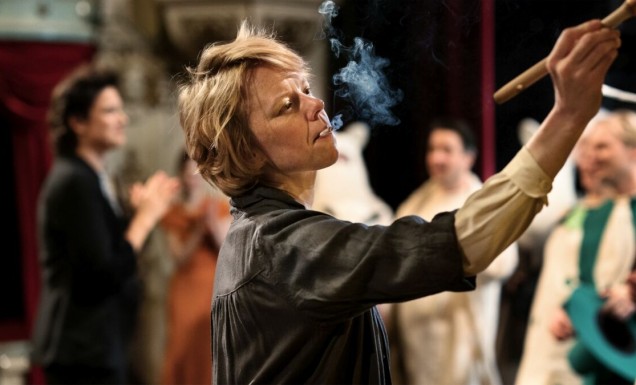 CAST:
Alma Pöysti (Tove Jansson),
Krista Kosonen (Vivica Bandler),
Shanti Roney (Atos Wirtanen),
Joanna Haartti (Tuulikki Pietilä),
Kajsa Ernst (Signe 'Ham' Jansson),
Robert Enckell (Viktor 'Faffan' Jansson)
SCRIPT:
Eeva Putro
PHOTOGRAPHY:
Linda Wassberg
MUSIC:
Matti Bye
EDITING:
Samu Heikkilä
Synopsis:

The end of WWII in Helsinki brings a new sense of artistic and social freedom. Painter Tove Jansson is enjoying art, dizzying parties and an open relationship with a married man, but her unconventional life puts her at odds with her sculptor father's strict ideals. Tove's desire for liberty is put to the test when she falls in love with the theatre director Vivica Bandler. As she struggles with her personal life, her creative endeavours take her in an unexpected direction: the melancholic tales about Moomins she told scared children in bomb shelters rapidly take on a life of their own, bringing Tove international fame and financial freedom.
The film has triumphed at the Jussi Awards, Finland's equivalent of the Oscars, in seven categories, including for Best Picture, Best Director and Best Actress (Alma Pöysti).
The screening of Tove is supported by the Embassy of Finland in Zagreb.
color, 103′