About cinema and program
Tuškanac theater
Film Programs was organized by the Croatian Film Clubs' Association and the Croatian Cinematheque located in the Tuškanac Cinema, Tuškanac 1 in Zagreb.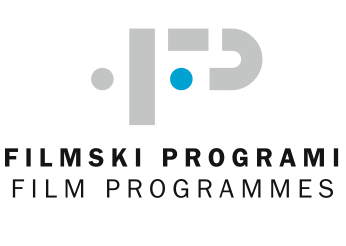 Logo of Film programmes, precursor of cinema Tuškanac
Film Programs - Why?
More than ten years have passed since generations of young people have had the opportunity to see the artworks of Tarkovski, Paradjanov, Eisenstein, Munk, Bunuel… One could go so far as to say that, by its neglect of this valuable aspect of art, Croatia is committing a form of cultural suicide. While it is true that some classics are shown on Croatian Television, the quantity is inadequate, and they are shown without any systematic approach, and so lack an educational goal or concept. (Jurica Pavičić, Jutarnji list, October 13, 2001)
About Tuškanac Cinema and Film Programmes:
In 2001, Croatian Film Association in collaboration with the Croatian Cinematheque started the project entitled Film Programmes. The main reason behind it was the years' long poor offer of film art mainly because until now, there has not been a suitable place for screening classic, contemporary, recent production, alternative or amateur film titles. In addition to this, there is a great need for educational programs for about fifty thousand high school and university students in Zagreb whose studies are connected to media culture of history of film.
In the overall commercialization of everything around us, with its film programs in Tuškanac Croatian Film Association is becoming a film-cultural center of Zagreb, a place that attracts not only established film professionals but primarily students who make up most of the Tuškanac audience.
The main tasks and goals of Film Programmes are the organization and realization of the following programs:
a) Cinematheque program, programs of classic silent and sound films, international and Croatian, national and author programs, special screenings connected to historical film anniversaries as well as 'in memoriam' programs dedicated to recently deceased film masters; a special focus is put on domestic film heritage – two to three programs a year show complete opuses of one of the Croatian film directors or thematic programs from the national archives.
b) Programs of artistically valuable contemporary feature film production by contemporary authors and newer national productions of non-American cinema, which are rarely distributed in the domestic market.
c) Regular and special programs of short feature films: documentaries, experimental and animated.
d) Hosting artistically oriented festivals and art projects and activities, as well as premieres of documentaries, experimental and animated and all other forms of short film forms.
From its very beginnings, Croatian Film Association has been working closely with the Croatian Cinematheque/Croatian Archives HAD in the realization of most of Film Programmes' programs. That is especially evident in the case of screenings of film titles from the national cinema and foreign film heritage from the archives. Thanks to the friendly relations between the Croatia Cinematheque and foreign archives, we also collaborate with archives from Serbia, Macedonia, Hungary, Bosnia and Herzegovina, and Austria. In 2005, we signed an agreement on collaboration, so that now Tuškanac regularly shows films from the Croatian Cinematheque's archives and together with film theoreticians from the Croatian National Archives organizes many programs, meetings and discussions with directors, actors and film crews, which are held in the small auditorium.
Foreign cinematheque programs as well as programs of contemporary non-commercial films are organized in partner collaboration with foreign cultural centers, embassies and consulates.
Most of the programs are distributed across larger university-towns throughout Croatia. Thus programs from Tuškanac are regularly shown in Kinoteka Zlatna vrata in Split and Art kino in Rijeka, and some programs are also shown in Valli cinema in Pula, at the National University Sesvete, cinema in Varaždin, cinema Uranija in Osijek, cinema Sloboda in Dubrovnik…
Film Programmes is produced by the Croatian Film Association in collaboration with the Croatian Cinematheque in the Tuškanac cinema auditorium, Tuškanac 1 in Zagreb.
The project is made possible with the help of Zagreb's City Office for Education, Culture and Sports and Croatian Audiovisual Centre.