Dennis Hopper
17.05.1936, Dodge City, Kanzas, SAD - 29.05.2010, Venice Beach, Kalifornija, SAD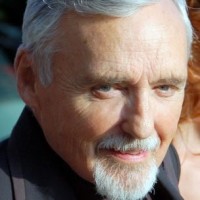 Foto: Georges Biard (CC BY-SA 3.0)
Glumac, redatelj, fotograf, slikar, kipar. Iako možda napoznatiji po ulogama psihotičnih negativaca, ostvario je bogatu karijeru kako u manjim, neovisnim, tako i velikim produkcijama više od stotinu filmova i u brojnim tv serijama. Rano shvativši da se želi baviti glumom, počeo je s manjim ulogama u televizijskim serijama sredinom pedesetih godina, a redovito se pojavljuje u nastavcima raznih serija do sredine šezdesetih godina prošloga stoljeća. Prvu, manju filmsku ulogu ostvaruje u
Buntovniku bez razloga
(Rebel Without a Cause, 1955.) gdje je partner Jamesu Deanu, a s njime glumi i u
Divu
(Giant, 1956.) te je zapažen kao obećavajući mladi glumac. Slijedi daljnja manja uloga u
Obračunu kod O.K. Corrala
(Gunfight at the O.K. Corral, 1957.), glumi Napoleona uz braću Marx u filmu
The Story of Mankind
(1957.), a tijekom snimanja filma
From Hell to Texas
(1958.) odbija poslušati upute redatelja Henrya Hathawaya zbog čega scenu ponavljaju osamdeset puta. Hathaway mu tada govori da je njegova karijera u Hollywoodu završena. Hopper, ne mogavši stvarno naći posao u Hollywoodu, odlazi u New York gdje idućih pet godina uči glumu pod mentorstvom Leea Strasberga te nastupa u kazalištu i tv serijama. U okrilje Hollywooda vraća se tek 1961. godine kada sklapa brak s Brooke Hayward, kćerkom hollywoodskog producenta i glumice Margaret Sullavan. Zahvaljujući njenu prijateljstvu s Johnom Wayneom dobiva manju ulogu u
Sinovima Katie Elder
(The Sons of Katie Elder, 1965.) te slijede i ostale (
Cool Hand Luke
, 1967.;
Hang 'Em High
, 1968.). U to vrijeme posredovanjem supruge upoznaje Petera Fondu s kojim razvija ideju za film te zajedno s Terryem Southernom te pišu scenarij za
Goli u sedlu
(Easy Rider, 1969.) koji Hopper režira, a obojica ostvaruju glavne glumačke uloge, uz Jacka Nicholsona u sporednoj. Hopper biva nagrađen kao redatelj debitant u Cannesu, a film stječe kultan status. Zahvaljujući uspjehu filma,
Universal studio
Hopperu financira slijedeći film,
The Last Movie
(1971.) koji on režira u Peruu te glumi i glavnu ulogu. No, kritika i publika film nisu dobro dočekali te slijede daljnje manje uloge, a ističe se ona u
Američkom prijatelju
(
Der amerikanische Freund
, 1977.) Wima Wendersa i
Apokalipsi danas
(Apocalypse Now, 1979.) Francisa Forda Coppole. Ponovno uskače u redateljsku stolicu u filmu
Out of the Blue
(1980.), a u njemu nastupa i kao glumac. U osamdesetima, nakon više od desetljeća prekomjerna konzumiranja alkohola i droge, odlučuje ostati trijezan te počinje najplodnije razdoblje njegova rada tijekom kojega postaje priznati karakterni glumac. Zapažene su njegove uloge u
River's Edge
(1986.),
Plavi baršun
(Blue Velvet, 1986.),
Hoosiers
(1986.),
Flashback
(1990.),
The Indian Runner
(1991.),
Red Rock West
(1993.),
Prava romansa
(True Romance, 1993.),
Brzina
(Speed, 1994.),
Basquiat
(1996.),
Land of the Dead
(2005.),
Opsesija
(Elegy, 2008.) i
Palermo Shooting
(2008.). Glumio je i u televizijskim serijama
E Ring
(2005.) i
Crash
(2008.). Od ostalih njegovih režija ističu se kriminalistička drama
Boje nasilja
(Colors, 1988.) i noir triler
Hot Spot
(1990.). Uz rad na filmu, bio je i talentirani umjetnik te se bavio fotografijom, slikarstvom, kiparstvom, a i sam je sakupljao radove brojnih poznatih umjetnika koji su mu bili suvremenici i prijatelji. U njegovoj zbirci tako se, između ostalih, nalaze radovi Andyja Warhola, Eda Ruschea i Juliana Schnabela. Potkraj 2009. dijagnosticiran mu je rak prostate od čega je i preminuo u svibnju 2010. godine, prethodno primivši zvijezdu na pločniku slavnih u Hollywoodu 26. ožujka 2010.
Filmografija
Filmografija (kao glumac):
The Last Film Festival (2010)
An American Carol (2008)
Palermo Shooting (2008)
Swing Vote (2008)
Elegy (2008)
Sleepwalking (2008)
Hell Ride (2008)
Memory (2006)
10th & Wolf (2006)
Hoboken Hollow (2005)
Land of the Dead (2005)
The Crow: Wicked Prayer (2005)
Americano (2005)
House of 9 (2005)
The Last Ride (2004) (TV)
Out of Season (2004)
The Keeper (2004)
Legacy (2004)
The Night We Called It a Day (2003)
The Piano Player (2002)
Leo (2002)
Unspeakable (2002)
Firestarter 2: Rekindled (2002) (TV)
L.A.P.D.: To Protect and to Serve (2001)
Knockaround Guys (2001)
Choke (2001)
Ticker (2001)
Held for Ransom (2000)
Tycus (2000) (V)
Jason and the Argonauts (2000) (TV)
Luck of the Draw (2000)
The Spreading Ground (2000)
Michael Angel (2000)
Bad City Blues (1999)
The Venice Project (1999)
Jesus' Son (1999)
Straight Shooter (1999)
Edtv (1999)
The Prophet's Game (1999)
Lured Innocence (1999)
Justice (1999/II) (TV) (nepotpisan)
Meet the Deedles (1998)
Top of the World (1998)
Black Dahlia (1998) (VG)
Road Ends (1997)
The Blackout (1997)
The Making of 'Super Mario Brothers' (1997) (TV)
The Good Life (1997)
Samson and Delilah (1996) (TV)
The Last Days of Frankie the Fly (1996)
Basquiat (1996)
Space Truckers (1996)
Carried Away (1996)
Waterworld (1995)
Search and Destroy (1995)
Witch Hunt (1994) (TV)
Speed (1994)
Chasers (1994)
True Romance (1993)
Red Rock West (1993)
Super Mario Bros. (1993)
Boiling Point (1993/I)
The Heart of Justice (1992) (TV)
Sunset Heat (1992)
Nails (1992) (TV)
Eye of the Storm (1991)
Doublecrossed (1991) (TV)
The Indian Runner (1991)
Paris Trout (1991)
Catchfire (1990)
Flashback (1990/I)
Chattahoochee (1989)
Blood Red (1989)
The Pick-up Artist (1987)
Straight to Hell (1987)
Black Widow (1987)
Running Out of Luck (1987)
Hoosiers (1986)
Blue Velvet (1986)
River's Edge (1986)
The Texas Chainsaw Massacre 2 (1986)
Stark: Mirror Image (1986) (TV)
The American Way (1986)
My Science Project (1985)
Stark (1985) (TV)
O.C. and Stiggs (1985)
A Hero of Our Time (1985) (nepotpisan)
Slagskämpen (1984)
Euer Weg führt durch die Hölle (1984) (nepotpisan)
White Star (1983)
The Osterman Weekend (1983)
Rumble Fish (1983)
Neil Young: Human Highway (1982)
King of the Mountain (1981)
Reborn (1981)
Out of the Blue (1980)
Las flores del vicio (1979)
Apocalypse Now (1979)
L'ordre et la sécurité du monde (1978)
Couleur chair (1978)
Les apprentis sorciers (1977)
Der amerikanische Freund (1977)
Tracks (1977)
Mad Dog Morgan (1976)
Kid Blue (1973)
Crush Proof (1972)
The Other Side of the Wind (1972)
The Last Movie (1971)
True Grit (1969)
Easy Rider (1969)
Head (1968) (nepotpisan)
Panic in the City (1968)
Hang 'Em High (1968)
The Glory Stompers (1968)
Cool Hand Luke (1967)
The Trip (1967)
Queen of Blood (1966)
The Sons of Katie Elder (1965)
Tarzan and Jane Regained... Sort of (1964)
The Thirteen Most Beautiful Boys (1964)
Night Tide (1961)
Key Witness (1960)
The Young Land (1959)
Swiss Family Robinson (1958) (TV)
From Hell to Texas (1958)
Sayonara (1957) (glas) (nepotpisan)
The Story of Mankind (1957)
Gunfight at the O.K. Corral (1957)
Giant (1956)
I Died a Thousand Times (1955) (nepotpisan)
Rebel Without a Cause (1955)