Antun Vrdoljak
04.04.1931, Imotski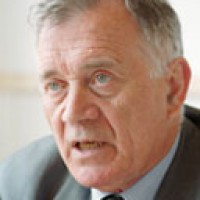 Antun Vrdoljak took a degree in acting from the Theatre Academy in Zagreb (today known as the Academy for Drama Arts), and became famous for his role in the film
H-8
(1958) by Nikola Tanhofer. His directing debut came in 1965 when he made one episode,
Poslije predstave
, in the omnibus film
Ključ
(the other two were directed by Vanča Kljaković and Krsto Papić). The most important work of his career was the war trilogy
Kad čuješ zvona
(When You Hear the Bells, 1969),
U gori raste zelen bor
(There Grows a Green Pine in the Woods, 1971) and
Povratak
(The Return, 1979), in which, (especially in the first two films based on
Ratni dnevnik
by Ivan Šibl), he gives a realistic account of WW II in Croatia, denying the earlier ideological stereotypes. The other significant segment of his film career involves adaptations of literary classics:
Mećava
(Snowstorm, 1977) based on Pero Budak's drama with the same title,
Kiklop
(1982) based on Ranko Marinković's novel with the same title,
Glembajevi
(1988) based on Miroslav Krleza's drama and prose, and
Karneval, anđeo i prah
(1990, as TV series
Zagrljaj
) based on Marinkovic's prose. He also directed one of the most popular Croatian TV series
Prosjaci i sinovi
(1971, based on Ivan Raos), as well as a number of short documentary films mostly about artists (e.g.
O djelu Ivana Meštrovića
, 1986). In the 90's he devoted himself mostly to politics and the promotion of Croatian sport; he was the general manger of Croatian Radiotelevision and the first president of the Croatian Olympic Committee. After 14 years of absence from the scene, he directed his war epic
Duga Mracna Noc
(Long Dark Night), which along with
Gospa
is the most expensive film of the newer Croatian cinema.