Pupi Avati
03.11.1938, Bologna, Italy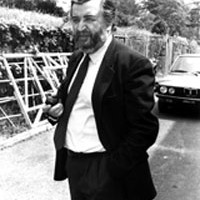 Giuseppe Avati, more famous as Pupi, is one of the most productive Italian film directors. In mid 1950's he abandoned his studies of Animal Health in order to be able to play a clarinet in a jazz band. From 1964, he has been working on film. Together with his brother Antonio and Gianni Minervini, he established the production house
A.M.A.
. His directing debut was the horror film
Balsamus l'uomo di Satana
(1968). The fact that Avati made his debut with a horror film is quite important as, at the time, horror films in Italy were almost unknown and regarded as avant-garde. With his next films, he attracted the attention of audience and film critics and won several awards. Some of his early films are
Bordella
(1975) and
Jazz band
(1978). In 1975, he worked with teh famous director Pasolini on his screenplay for the director's last film
Salo o le centoventi giornate di Sodoma
. In the 1980's, together with his brother Antonio, he founded his new production house
Duea Film
. The most important films from that time are the comedies
Impiegati
(1984) and
Festa di laurea
as well as sports drama
The Last Minute
(Ultimo momento, 1987). His film
The Story of Boys & Girls
(Storia di ragazzi e di ragazze, 1989) attracted the attention of American critics and audience, which enabled him to direct his first American feature film
Bix
(1991), which deals with the life of the jay legend Bix Beiderbeck. He directed his second film in English,
The Childhood Friend
(L'amico d'infanzia), in 1994. Some of his next more important films are
The Best Man
(Il testimone dello sposo, 1998), which was nominated for the Golden Globe,
La via degli Angeli
(1999), awarded for best screenplay at the Montreal Film Festival and
I cavalieri che fecero l'impresa
(2001), which was nominated in several categories for the award from the Italian film critics. He has directed many films so far and some of them are the romantic comedy
Il cuore altrove
(2003), drama
La seconda notte di nozze
(2005), thriller
The Hideout
(Il nascondiglio, 2007), war drama
Giovanna's Father
(Il papà di Giovanna, 2008), romantic comedy
The Friends at the Margherita Cafe
(Gli amici del bar Margherita, 2009), drama
A Second Childhood
(Una sconfinata giovinezza, 2010) and
The Big Heart of Girls
(Il cuore grande delle ragazze, 2011).
Filmography
I cavalieri che fecero l'impresa (2001)
La via degli angeli (1999)
Il Testimone dello sposo (1998)
L' Arcano incantatore (1996)
Festival (1996)
Voci notturne (TV serija) (1995)
Dichiarazioni d'amore (1994)
The Childhood Friend (1994)
Magnificat (1993)
Fratelli e sorelle (1991)
Bix (1991)
Storia di ragazzi e di ragazze (1989)
E proibito ballare (TV serija) (1989)
Sposi (1987)
Ultimo minuto (1987)
Regalo di Natale (1986)
Festa di laurea (1985)
Impiegati (1984)
Noi tre (1984)
Una Gita scolastica (1983)
Zeder (1983)
Dancing Paradise (1982)
Aiutami a sognare (1981)
Le Strelle nel fosso (1979)
Tutti defunti... tranne i morti (1977)
La Casa dalle finestre che ridono (1976)
Bordella (1976)
La Mazurka del barone, della santa e del fico fiorone (1975)
Thomas e gli indemoniati (1970)
Balsamus l'uomo di Satana (1968)