Shyam Benegal
14.12.1934, Aliwal, Andhra Pradesh, India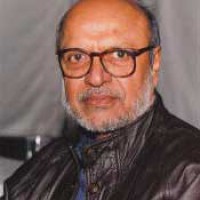 Bengal is an Indian director and screenwriter. He made his first film when he was only twelve and later founded a film association. During his studies in economy at the Osmania University he worked as an actor. After graduation he moved to Bombay where he got a job as a copywriter. After a promotion he wrote screenplays and directed commercials, which he did for more than ten years. Throughout his career he made many short films and documentaries but directed his first feature film,
The Seedling
(Ankur, 1974), at the age of 40. His other films include
Night's End
(Nishaant, 1975),
The Churning
(Manthan, 1976),
Possessed
(Junoon, 1978),
The Seventh Horse of the Sun
(Suraj Ka Satvan Ghoda, 1993),
Mammo
(1994),
The Making of the Mahatma
(1996) and
Netaji Subhas Chandra Bose: The Forgotten Hero
(2005).