Bernardo Bertolucci
16.03.1940, Parma, Italy - 26.11.2018, Rome, Italy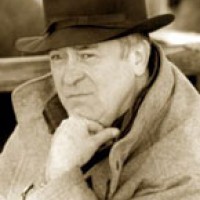 Following the footsteps of his father, a poet and film critic, Bertolucci became a famous poet at the age of 22. He studied contemporary literature at the University in Rome but soon dropped out to begin working as a director's assistant to Pier Paolo Pasolini on his debut
Accattone
(1961). In 1962, Bertolucci made his directing debut with the film
The Grim Reaper
(La commare secca). Afterwards he made
Before the Revolution
(Prima della rivoluzione, 1964),
Partner
(Il sosia, 1968) and
Spider\'s Stratagem
(Strategia del ragno, 1970), and achieved international acclaim with the film
The Conformist
(Il conformista, 1970), which was nominated for the Oscar in the category of Best Adapted Screenplay. Next he made his controversial film
Last Tango in Paris
(L\' ultimo tango a Parigi, 1972) starring Marlon Brando. He was forced to shorten his next film, the five-hour long epic
1900
(Novecento, 1976). In 1991, Paramount studio released the original version of this film. Afterwards, he made the film
Luna
(La luna, 1979), which was not well accepted either by the critics or the audience. He secured international prestige with the epic story
The Last Emperor
(1987) which won nine Oscars (among others Best film, director and adapted screenplay). This film is characterized by unique visual aesthetics, which became a symbol of Bertolucci's films. He continued with Asian topics in his film
Little Buddha
(1993), and afterwards made
The Sheltering Sky
(1990), but neither of them achieved much success. His film
Stealing Beauty
(1996) made the actress Liv Tyler famous. His latest film is
The Dreamers
(2003) whose story takes place in Paris in 1960s.