Jules Dassin
18.12.1911, Middletown, Connecticut, USA - 31.03.2008, Athens; Greece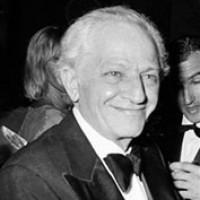 Julius Samuel Dassin, is a director, screenwriter, producer and actor. After graduating from high school in Bronx, he enrolled in an acting school in Europe. Soon he returned to New York and from 1934 to 1939 acted in Yiddish as a member of a troupe. For a short time he was a member of the Communist Party in the US but in 1939 decided to leave it due to his disappointment with the fact that the Soviet Union had signed a pact with Hitler. At the same time he abandoned acting as well and started directing and writing screenplays. Thus he moved to Hollywood and worked as an assistant director to Alfred Hitchcock and Garson Kanin. He made his debut with the highly acclaimed
The Tell-Tale Heart
(1941) based on Edgar Allan Poe's story. Afterwards he made other feature films such as
Nazi Agent
(1942),
Reunion in France
(1942) starring Joan Crawford and John Wayne and
The Canterville Ghost
(1944). Several years later he joined Universal Studio and made two important films:
Brute Force
(1947) and
The Naked City
(1948) which won an Oscar for Best Cinematographer and Best Editor. His success was endangered by accusations that he was a communist and involved in anti-American activities. After testifying against directors Ed Dmytryk and Frank Tuttle he ended up on the Hollywood black list. The last film that he made in the 1950's for a major studio was
Night and the City
(1950), produced by 20th Century-Fox and shot in London. In 1953 he left the USA and moved to France, where he directed his most famous film
Du rififi chez les hommes
(1955). In 1955, this film won an award for Best Director at Cannes. Nine years later, he made its parody
Topkapi
(1964). At Cannes he met the Greek actress Melina Mercouri. After making two more barely noticed films in France, Dassin moved to Greece and directed the acclaimed comedy
Never on Sunday
(Pote tin Kyriaki, 1960) in which he also acted together with Melina Mercouri, whom he later married. In the mid-1960's the political situation in the US calmed down and Dassin returned to his home country. He directed
Up Tight!
(1968), a remake of John Ford's
Informer
(1935), starring African Americans. Even though he once again gained a high reputation in Hollywood, he left US with his wife soon after making his film
Promise at Dawn
(1970), and moved back to Greece. His last three films are
The Rehearsal
(1974),
Kravgi gynaikon
(1978) and
Circle of Two
(1980). After his wife Melina, who was a very active Greek politician and minister of culture, died (October 18, 1930 - March 6, 1994), Dassin participated in humanitarian work until his death in March 2008.