Jacques Demy
05.06.1931, Pontchâteau, Loire-Atlantique, France - 27.10.1990, Paris, France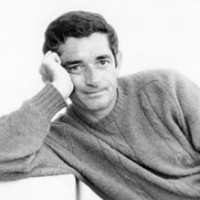 Even though Demy was making films at the same time as Godard, Truffaut and Chabrol, his films are much more romantic, lyrical and almost fairy-tale like; nevertheless he does not neglect psychological realism. Always in love with sounds and images, Demy concentrated on the romantic aspects of life, unlike most of the other members of the French New wave. Even in his first film,
Lola
, starring Anouk Aimée (who became famous after Claude Lelouche's
A Man and a Woman
and Fellini's films
The Sweet Life
and
8 1/2
), it was evident that his main characteristics as an author include, besides specific poetics, precise psychological profiling of the characters and evocations of inner processes in his characters. In
Lola
it is evident that Demy devoted his film to the French director of German-Jewish origin Max Ophüls. Demy in
Lola
shows all the characteristics that he was to become recognizable for later in his career; they include stylized photography and a romantic overall atmosphere. Demy's most successful film was his third film
The Umbrellas of Cherbourg
, a romantic story with sung dialogues and set designs characteristic of Hollywood musicals. The composer of the famous music for this film was Michel Legrand. Demy won the
Grand Prix
in Cannes. Afterwards he continued his career in America but never achieved the success of his early films. From 1962 until his death in 1990, his wife was the director Agnes Varda.
Filmography
La table tournante (1988)
Trois places pour le 26 (1988)
Parking (1985)
Une chambre en ville (1982)
Lady Oscar (1978)
L'evénement le plus important depuis que l'homme a marché sur la lune (1973)
The Pied Piper (1972)
Peau d'âne (1970)
The Model Shop (1969)
Les Demoiselles de Rochefort (1967)
Les Parapluies de Cherbourg (1964)
La Baie des anges (1963)
Les sept péchés capitaux (1962)
Lola (1961)
Ars (1959)
La mere et l'enfant (1959)
Musee Grevin (1958)
Le bel indifférent (1957)
Le sabotier du Val de Loire (1955)