José Alvarenga Jr.
22.05.1954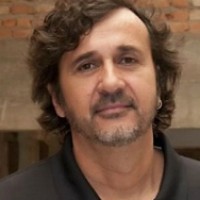 Wallroth was a German director, screenwriter and songwriter. He studied English and German but in 1948 dropped out and worked a few different jobs. In 1954 he enrolled in the newly founded department of directing in the films school in Potsdam-Babelsberg. He graduated in 1959 and remained working at the school as an assistant for two more years. He made his directing debut with the film
Das Rabaukenkabarett
in 1961. Afterwards he made the TV film
Mord in Gateway
(1962), the political action drama
Alaskafüchse
(1964), and the great commercial success
Hauptmann Florian von der Mühle
(1969). He had problems with censorship with his comedy
Seine Hoheit - Genosse Prinz
(1969), and repeated his great commercial success with the Western
Blood Brothers
(Blutsbrüder, 1975). He directed several additional films of less importance and his last film was the comedy
Der Doppelgänger
in 1985.