Krsto Papić
07.12.1933, Vučedol - 07.02.2013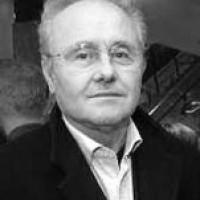 Papić graduated from the University of Philosophy in Zagreb. From 1956 he was
the assistant director to famous directors such as Fedor Hanžeković and Veljko
Bulajić. He made his directing debut in 1965 with one of the episodes in the
omnibus
Ključ.
He made his first feature film in 1967 (
Iluzija
).
Afterwards, for his film
Lisice
he won the Golden Arena for the best film
and director in Pula; this film is considered to be one of the most important
works of the Yugoslavian so-called Black wave. His later film with a similar
ambience was the adaptation of Brešan's drama
Predstava Hamleta u selu Mrduša
Donja
(1973). He made the first Croatian horror film,
Izbavitelj
,
in 1976 and won the Grand Prix at the festival in Trieste. Often relying on
methods of film of truth, he made many documentaries and short feature films,
often dealing with contemporary social and political themes.
Filmography
Kad mrtvi zapjevaju (1999)
Priča iz Hrvatske (1991)
Život sa stricem (1988)
Tajna Nikole Tesle (1980)
Izbavitelj (1976)
Predstava Hamleta u selu Mrduša Donja (1973)
Lisice (1969)
Iluzija (1967)
Ključ (epizode Čekati, 1965)

Filmografija (documentary and short films):
Borovo - institut (1986)
Nezaposlena žena s djecom (1986)
50 godina Borova - Priča o obuci - Borovo (1981)
Vlakom u operu (1976)
Charter let br… (1975)
Mala seoska priredba (1972)
Specijalni vlakovi (1972)
Nek se čuje i naš glas (1971)
Čvor (1970)
Kad te moja čakija ubode (1968)
Halo, München (1968)