Carol Reed
30.12.1906, London, Vel. Britanija - 25.04.1976, London, Vel. Britanija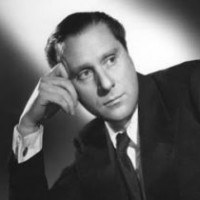 Carol Reed was born December 30, 1906 and died on April 25, 1976, in London.
He went to
King's School
in Canterbury, and his parents planned for him
to become a farmer. In the mid twenties, he tried acting on the stage. Later on
he became director of Edgar Wallace's detective dramas, and the representative
for screen adaptations of his works. At the beginning of 1930s, he began working
on film as Basil Dean's assistant. The first film he directed was
Midshipman
Easy
(1935). Until World War II, he successfully directed films, full of
humour, dominated by ordinary people with ordinary lives. With
The Stars Look
Down
he attracted attention of the critics. During World War II, he was part
of British military unit that shot propaganda documentaries. The period of his
greatest successes came after World War II, when he joined the leading authors
of post-war world film. Most important films from this period were
Odd Man
Out
(1947),
The Fallen Idol
(1948),
The Third Man
(1949),

The Outcast of the Island
(1951), and
The Man Between
(1953). This
was followed by a fall in his career when he began piling up failures. His next
success came in 1968, with the musical
Oliver
(which won 5
Oscars
,
including for best director and best film). In 1962, he abandoned the set of the
new version of
Mutiny on the Bounty
, unable to come to terms with actors
and producers. In 1952, he became an honorary Sir for his meritorious
contribution to cinema.
Filmography
Follow Me (1972)
Flap (1970)
Oliver! (1968)
The Agony and the Ecstasy (1965)
The Running Man (1963)
Our Man in Havana (1959)
The Key (1958)
Trapeze (1956)
A Kid for Two Farthings (1955)
The Man Between (1953)
Outcast of the Islands (1952)
The Third Man (1949)
The Fallen Idol (1948)
Odd Man Out (1947)
The True Glory (documentary)(1945)
The Way Ahead (1944)
The New Lot (short)(1942)
The Young Mr. Pitt (1942)
A Letter from Home (short) (1941)
Kipps (1941)
Girl in the News (1941)
Night Train to Munich (1940)
The Stars Look Down (1939)
A Girl Must Live (1939)
Climbing High (1939)
Penny Paradise (1938)
Bank Holiday (1938)
Who's Your Lady Friend? (1937)
Talk of the Devil (1937)
Laburnum Grove (1936)
It Happened in Paris (1935)
Midshipman Easy (1935)