Richard Attenborough
29.08.1923, Cambridge, England - 24.08.2014, London, England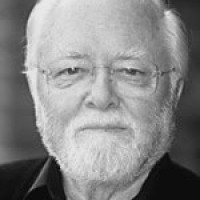 Richard Attenborough was an English film and theatre actor, director, producer and entrepreneur. He studied at the Academy of Dramatic Art, and started to act in theatre even before his studies. During WW II, he served in the Royal Air Forces (RAF) as a pilot and then he was transferred to the RAF's film unit in Pinewood studios. Thanks to that fact he appeared in the propaganda film
Journey Together
(1943) by Edward G. Robinson. After further training, due to which his hearing got permanently damaged, he flew above Europe filming the terrain from the air. In 1942 he had his first film role, although uncredited, in the war drama
In Which We Serve
(1942) by Noel Coward and David Lean. He had a small role of an English pilot in the film
A Matter of Life and Death
(1946), but attracted the attention of the audience in the crime drama
Brighton Rock
(1947) by John Boulting. He had the same role in theatre in 1942. His other famous films from the 1950's are the war drama
Dunkirk
(1958) and comedy
I'm All Right Jack
(1959). It is interesting that Attenborough and his wife, actress Sheila Sim, were members of first line-up of the theatre play
Mousetrap
, which had its premiere on West End in 1952 and became the longest-lasting theatre production in the world. In the beginning of 1960's he founded the production company Beaver Films together with the actor, screenwriter and director Bryan Forbes and they started to produce films. His first production was Guy Green's drama
The Angry Silence
(1960) in which he also starred and then Bryan Forbes'
Whistle Down the Wind
(1961),
The L-Shaped Room
(1962) and the most successful of them
Séance on a Wet Afternoon
(1964). Next he produced his directing debut, war musical
Oh! What a Lovely War
(1969). In the 1960's he starred in some of his most famous films -
The League of Gentlemen
(1960) by Basil Dearden, then with Steve McQueen and James Garner as a member of RAF in the American production
The Great Escape
(1963). The film was a great success and it became his most famous role. Another war film, the British
Guns at Batasi
(1964) was not as successful. Other well-received films that he starred in were the American productions
The Flight of the Phoenix
(1965) by Robert Aldrich starring James Stewart,
The Sand Pebbles
(1966) by Robert Wise starring Steve McQueen and
Doctor Dolittle
(1967) by Richard Fleischer. For the two latter films he was awarded Golden Globes as Best Supporting Actor. In the 1970's his most important roles include the leading role in the crime drama
10 Rillington Place
(1971) by Richard Fleischer based on a crime that took place in real life, smaller role in the historical drama in
Shatranj Ke Khilari
(1977) by Satyajit Ray and one in the crime comedy
Branningan
(1975) by Douglas Hickox starring John Wayne. At that time in his career he was more devoted to directing films. He directed the drama about young Winston Churchill
Young Winston
(1972) and the war drama
A Bridge Too Far
(1977) that was very popular at the theatres and was nominated for the BAFTA award as Best Film and Director. He worked with Anthony Hopkins on the less successful horror film
Magic
(1978). After 1979, he devoted his career almost entirely to directing and made his most popular and critically acclaimed film
Gandhi
(1982) starring Ben Kingsley. Besides other awards, the film won eight Oscars including those for Best Film, Director and Actor, Golden Globes for Best Foreign Film and Director and the BAFTA award for Best Film and Director. He achieved smaller commercial success with the film adaptation of the musical
A Chorus Line
(1985), but the film was nominated for the Golden Globe as Best Musical/Comedy and Director. Afterwards, he directed another biopic Cry Freedom (1987) and another big hit
Chaplin
(1992) starring Robert Downey Jr. After a long time, he appeared in a smaller role in Steven Spielberg's spectacle
Jurassic Park
(1993), as well as its sequel in 1997. Some of his other important roles include the one of Santa Claus in
Miracle on 34th Street
(1994) by Les Mayfield, smaller role of the English ambassador in Kenneth Branagh's
Hamlet
(1996) and a smaller role in
Elizabeth
(1998) by Shekhar Kapur. In the 1990's he directed the biopic drama
Shadowlands
(1993),
In Love and War
(1996) about young Ernest Hemingway and
Grey Owl
(1999) starring Pierce Brosnan as a Canadian who claimed to be Indian. The last film he directed and produced was the romantic drama
Closing the Ring
(2007) starring Shirley MacLaine and Christopher Plummer. During his life he was an active humanitarian who served as UNICEF Goodwill Ambassador, and for thirty three years he led campaigns for raising the awareness of muscular dystrophy. He was an art collector and an avid fan of the Chelsea soccer club. He published his unofficial autobiography Entirely Up To You, Darling together with his friend and colleague Diana Hawkins in 2008. He received an honorary knighthood in 1976, and served as the president of the Management Board of the
Royal Academy of Dramatic Arts
(RADA) and the
British Academy of Film and Television Arts
(BAFTA). In 2008, after a stroke he fell down the stars and due to a severe injury ended up in a wheelchair. He spent his last years in a nursing home together with his wife, and passed away five days before his ninety fifth birthday.
Filmography
Director's filmography:
Closing the Ring (2007)
Grey Owl (1999)
In Love and War (1996)
Shadowlands (1993)
Chaplin (1992)
Cry Freedom (1987)
A Chorus Line (1985)
Gandhi (1982)
Magic (1978)
A Bridge Too Far (1977)
Young Winston (1972)
Oh! What a Lovely War (1969)