Douglas Sirk
26.04.1900, Hamburg, Germany - 14.01.1987, Lugano, Switzerland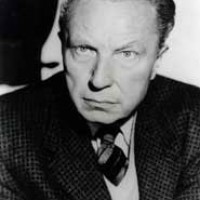 Sirk is a famous director of Hollywood films from the 1950s who began his career in Germany as a theatre director. After WW I, in 1919, he studied law in Munich but later transferred to the Hamburg University where he took up philosophy and art history. At the same time he worked as a journalist and started to direct in theatre. Between 1922 and 1937, he directed many plays and became a renowned theatre director. In 1934, he was hired by UFA and started directing short films; soon he directed his first feature film
'twas een april
(Dutch version) i.e.
April, April!
(German version). Even though he had much success in Germany with his later UFA produced films, because of the emergence of Nazism, he left the country in 1937 with his Jewish wife Hilde Jary. He spent some time in France and the Netherlands, but soon accepted an invitation to come to the USA to direct the remake of his successful film
Zu neuen Ufern
(1937). Nevertheless, the first film he directed in Hollywood was
Hitler's Madman
(1943). In his early phase in the US, he also directed the thriller
Lured
(1947) and
Sleep, My Love
(1948). He made his most famous films for the
Universal International Pictures
Studio between 1951 and his retirement in 1959. Those include the melodrama
Magnificent Obsession
(1954),
All That Heaven Allows
(1955),
Written on the Wind
, (1956),
A Time to Love and a Time to Die
(1958),
The Tarnished Angels
(1958) and
Imitation of Life
(1959), which was at the time
Universal's
most commercially successful film - and Sirk's last film. He then left the US, stopped directing and returned to Europe where he lived in Switzerland until he died in 1987. During his later American phase, his films were commercially successful but not well accepted by film critics. In the 1960s, thanks to Jean-Luc Godard and the magazine
Cahiers du cinéma
, his work was critically revalorized, mostly due to the long interview that Jon Halliday did with Sirk in 1971. From then on, besides his visual style, the ironical and socially critical aspects of his Hollywood films became better understood and esteemed.