Stanley Kubrick
26.07.1928, New York, USA - 07.03.1999, Harpenden, UK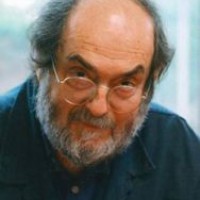 Stanley Kubrick (July 26th , 1928, New York, USA – March 7th , 1999,
Harpenden, Great Britain), was a famous American director, screenwriter and
producer. From his early age he was interested in photography, and as a
seventeen-year old he became a photographer for the magazine
Look
. He
began to work in film in 1950 as a writer and director on a few documentary
films. He made his first feature film
Fear and Desire
in 1953. With his
film
The Killing
(1956) he attracted the critics' attention. In the
sixties he made several of his famous films, among others his masterpiece

2001: A Space Odyssey
(1968). Until he died he made five more films, from
which the most famous are
A Clockwork Orange
(1971),
The Shining
,
(1980) and his last,
Eyes Wide Shut
(1999). He suddenly died while
working on the film
Artifical Inteligence: AI
, which was later realized
by Steven Spielberg.