Jacques Tati
09.10.1907, Le Pecq, France - 05.11.1982, Paris, France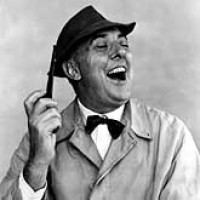 Tati was a French actor, screenwriter and director. He was born as Jaques Tatischeff and was a descendant of the Russian aristocracy (a grandfather on his father's side was a general and a military attaché in the Russian embassy in Paris), which enabled him to get a quality education. However, in his youth Jacques showed the most interest in sports and pantomime, often imitating events from sports training. Thrilled with his imitations, his friends advised him to try out acting on stage, which Tati later did, appearing in many theatres and music halls in Paris in 1930s. He transferred his gags to short films such as
Oscar, champion de tennis
(1932) by Jack Forrester and
Soigne ton gauche
(1936) by René Clément for which Tati also co-wrote the screenplay. He co-directed the film
Gai dimanche
(1935). After WW II he directed, wrote the screenplay and acted in the short film
L'école des facteurs
(1947), a comical portrayal of postmen. Encouraged by the film's great success, Tati made it into his first feature film
Holiday
(Jour de fête, 1949). The feature film was also a great success. While two versions were originally made, one black and white and one in color, only the black and white version was shown, due to technical problems, until 1995 when the color film was restored. As early as his first feature film, Tati established the stylistic foundations characteristic of his career. Without a classic plot and professional actors, his films consist of a series of situations and gags with a minimal amount of dialogue, while background noises are enhanced to highlight the action. The relationship of a man who has kept his childlike naiveté and simple-mindedness is contrasted with the complexities of a world altered by technology. Tati introduced the recognizable character of his
alter-ego
Mr. Hulot in his second feature film
Mr. Hulot's Holiday
(Les vacances de Monsieur Hulot, 1953). Hulot is the protagonist of his other films such as
My Uncle
(Mon oncle, 1958), which won an Oscar for Best Foreign Film in 1959 and the Special Jury's Award in Cannes in 1958, and
Play Time
(1967), which lead to Tati's bankruptcy, after three years of shooting, as he invested all his money in it. Tati managed to make one more film with Mr. Hulot,
Trafic
(1971). Afterwards, he made a low-budget film for Swedish television,
Parade
(1974). The completion of his last project was interrupted by his death in Paris by lung embolism on November 5, 1982.
Filmography
Filmography as a Director:
Forza Bastia (1978 / 2002) (short, documentary; finished by Sophie Tatischeff 2002)
Parade (1974)
Trafic (1971)
Play Time (1967)
Mon oncle (1958)
Mr. Hulot's Holiday (Les vacances de Monsieur Hulot, 1953)
Holiday (Jour de fête, 1949)
L'école des facteurs (1947) (short)
Gai dimanche (1935) (short)



Cours du soir
Soigne ton gauche