François Truffaut
06.02.1932, Paris - 21.10.1984, Neuilly-sur-Seine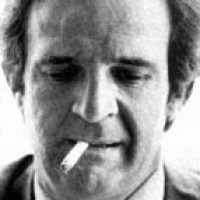 Truffaut was a French director, screenwriter, producer and film critic. Along with Jean-Luc Godard and Claude Chabrol he was the main representative of the French New Wave.
At the age of 16 he founded and managed his film club,
Cercle cinémanie
. Three years later he started to collaborate with the magazine
Cahiers du cinéma
thanks to the famous film critic and theoretician, André Bazin. He made his first short film,
Un visite
, in 1955. However, he was not satisfied with it at all and immediately made his next short film. Afterwards, he made his feature film debut with
The 400 Blows
(Les quatre cents coups, 1959) which earned him an award at the Cannes Film Festival and attracted attention to his works. The protagonist of that film, Antoine Doinel, is Truffaut's alter-ego. We also follow his coming of age in the segment
Antoine et Colete
in the omnibus
Love at Twenty
(L\'amour ŕ vingt ans, 1962) as well as in the films
Stolen Kisses
(Les baisers volés, 1968),
Bed and Board
(Domicile conjugal, 1970) and
Love on the Run
(L\' amour en fuite, 1979). His other famous films include
Jules and Jim
(Jules et Jim,1962),
Two English Girls and the Continent
(Les deux anglaises et le continent, 1971),
The Woman Next Door
(La femme d\'ŕ côté, 1981) and
The Last Metro
(Le dernier métro, 1980) which won the French
César
award for Best Film, Director and Adapted Screenplay. In all these films the protagonists are individuals who deal with love and the problems it causes for them. He moved away from the usual topic of love in his films
Shoot the Pianist
(Tirez sur le pianiste, 1960),
The Bride Wore Black
(La mariée était en noir 1968),
Confidentially Yours
(Vivement dimanche!, 1983), a thriller that is a sort of an homage to Alfred Hitchcock. He directed
Fahrenheit 451
(1966), a film adaptation of the sci-fi novel by Ray Bradbury, and
Day for Night
(La nuit américane 1973) which won an Oscar for Best Foreign Film in 1974.