Orson Welles
06.05.1915, Kenosha, USA - 10.10.1985, Hollywood, Los Angeles, USA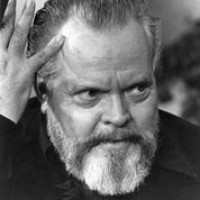 Orson Welles was an American theatre, film and radio director, actor, screenwriter and producer. He was born in a well-off family to a father who was an inventor and a mother who was a pianist and a suffragette. Already as a young child he encountered music and works by Shakespeare. After his mother's death when he was nine he spent several years travelling around the world with his father. Upon his return to the US, he enrolled to the
Todd School
in Woodstock, where he became active in the student theatre and radio. From an early age he was interested in literature and theater demonstrating his passion and talent. At the age of fifteen his father also died and after graduating from school he travelled around Europe thanks to his modest inheritance. First he went to Ireland and gained acting experience in several theatres in Dublin. At the age of nineteen, he made his debut with a smaller role in a production of Romeo and Juliette on Broadway. He was then noticed by John Houseman who hired him for his Federal Theatre Project. Welles also tried directing in theatre and in late 1930's Houseman and Welles founded the successful theatre group Mercury Theatre. In 1935, Welles started to work on the radio where he was joined also by the Mercury group. He caused an utter sensation when his radio adaptation of H. G. Wells' novel
War of the Worlds
(broadcasted on October 30, 1938) disturbed thousands of listeners who thought that the alien invasion was real. Two years later, Welles and his colleagues from the Mercury went to Hollywood and signed a contract with the RKO film studio.
In 1941, even though he had no real previous film experience, he directed his debut feature film
Citizen Kane
. He used many innovative film techniques and it remained his most famous films that is often regarded as one of the best films of all time. In 1941, this film won an Oscar for Best Screenplay, but nevertheless it was commercially unsuccessful. One of the reasons for it was the boycott of the film in all the newspapers owned by William Randolph Hearst whom Welles used as a model for his protagonist in the film. In 1942, he directed his next film
The Magnificent Ambersons
, which was a film adaptation of the novel with the same title, and experienced many production and financial difficulties that endangered the management of the studio that hired him. Consequently, the relationship between Welles and RKO Studios worsened. Faced with financial losses, the studio took over control of the film and reedited it without the director's consent. That resulted in a flawed film and Mercury group was dismissed from the RKO Studios and word got around that Welles does not respect the shooting schedule and budgets. Afterwards, Welles had no luck with producers and his career never quite recovered and he never had complete control of his films. Many of his films were shortened and reedited, such as
The Lady From Shanghai
(1947),
Macbeth
(1948),
Mr. Arkadin
(1955),
Touch of Evil
(1958). Thanks to their later critical reevaluation some of those films were restored and brought back to the director's original version. He was somewhat luckier with European producers thanks to which he directed two adaptations of Shakespeare's
The Tragedy of Othello: The Moor of Venice
(1952) and
Campanadas a medianoche
(1965) as well as the adaptation of Kafka's novel
Proces
(Le procès, 1962) that was partly filmed in Zagreb. As a director he completed a fairly small number of films, but his debut film secured him a special place in the history of film. As an actor he appeared many roles, both in his own as well as films by other directors. He mainly took on acting jobs to earn enough money for his own productions. One of his most important roles was in the film
The Third Man
(1949) by the director Carol Reed. As an actor, Orson Welles was a star of a specific sort and status. In addition, he was a narrator in several films and appeared on television and in commercials. In 1975, he won the life-time achievement award from the American Film Institute and ten years later he received the D.W. Griffith award, the highest honor of the American directors' guild.
Filmography
Filming 'Othello' (1978) (documentary)
F for Fake (1973) (documentary)
Histoire immortelle (1968) (TV)
Campanadas a medianoche (1965)
Nella terra di Don Chisciotte (1964) (documentary TV series filmed in 1961.)
Le procès (1962)
Touch of Evil (1958)
Mr. Arkadin (1955)
The Tragedy of Othello: The Moor of Venice (1952)
Black Magic (1949) (codirector, uncredited)
Macbeth (1948)
The Lady from Shanghai (1947) (uncredited)
The Stranger (1946)
The Magnificent Ambersons (1942)
Citizen Kane (1941)
Too Much Johnson (1938)
The Hearts of Age (1934) (codirector, short film)