Youssef Chahine
25.01.1926, Alexandria, Egypt - 27.07.2008, Cairo, Egypt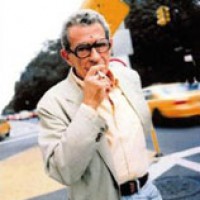 Chahine is one of the best Egyptian directors, screenwriters and producers. Soon after enrolling into the University of Alexandria in 1946, he moved to California to study drama. He returned to Egypt after two years and thanks to the director of photography Alevis Orfanelli begun working in the film industry. His directing debut was the film
Baba Amin
(1950), and his next film,
Ibn el Nil
(1951), won him an invitation to Cannes. His film
Bab El Hadid
(Cairo Station, 1958) was not very successful with Egyptian audiences, who were used to light melodramas, and was shown twenty years later. In 1963, he directed
El Naser Salah el Dine
(Salladin), a historical epic about sultan Salladin who fought against Richard the Lion Hearted during the Crusades. After his film
The Earth
(Al ard, 1969), he made
Al asfour
(The Sparrow 1972), which was the first Egyptian-Algerian co production. The first part of his autobiographical "Alexandria trilogy"
Iskanderija... lih?
(Alexandria...why?, 1978) won Chahine the Silver Bear in Berlin. The sequels are
Hadduta misrija
(Egyptian Story, 1982),
Iskanderija, kaman oue kaman
(Alexandria Again and Forever, 1990) and
Iskanderija... New York
(Alexandrie... New York, 2004). His film
Adieu, Bonaparte
(1985) portrays Egypt at the time of Napoleon's conquest and his film
Sudbina
(Al massir, 1997) tells the story of a liberal philosopher in Andalusia in 12th century. He directed segments of the omnibus
Lumičre et compagnie
(1995) and
11'09''01 - September 11
(2002), and is currently filming
Chacun son cinéma
for which he also directed a segment. In 1997 in Cannes, he won a life time achievement award.
Filmography
Filmography:

Chacun son cinéma (2007) (filming)
Alexandrie... New York (2004)
11'09''01 - September 11 (2002) (segment Egypt)
Skoot hansawwar (2001)
L' autre (1999)
Destiny (Al massir, 1997)
Lumičre et compagnie (1995) (segment)
Al mohager (1994)
Iskanderija, kaman oue kaman (1990)
Al yawm al-Sadis (1986)
Adieu Bonaparte (1985)
Hadduta misrija (1982)
Iskanderija... lih? (1978)
Awdat al ibn al dal (1976)
Al asfour (1972)
Rimal min dhahab (1971)
Al ikhtiyar (1970)
The Earth (Al ard, 1969)
Al nass wal Nil (1968)
Biya el-Khawatim (1965)
Fagr Yom gedid (1964)
El Naser Salah el Dine (1963)
Nida al'ushshaq (1961)
Rajul fi hayati (1961)
Bein edeik (1960)
Hubb lel-abad (1959)
Bab el hadid (1958)
Djamilah (1958)
Inta habibi (1957)
Wadda'tu hubbak (1957)
Siraa Fil-Mina (1956)
Shaytan al-Sahra (1954)
Siraa Fil-Wadi (1954)
Nissae bila regal (1953)
Sayedat al-Qitar (1953)
Al muharrij al-Kabir (1952)
Ibn el Nil (1951)
Baba Amin (1950)