Diabolique
Les diaboliques, feature film, crime drama, horror, France, 1955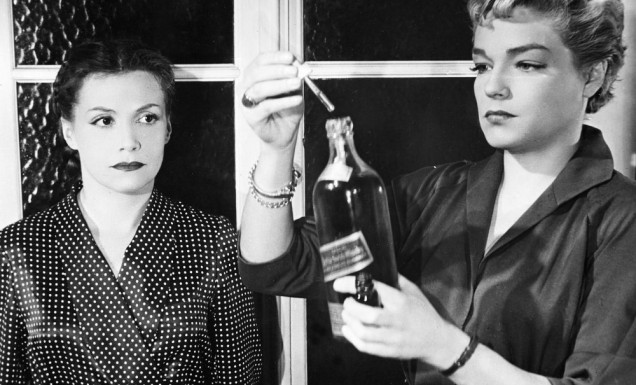 CAST:
Simone Signoret (Nicole Horner),
Véra Clouzot (Christina Delassalle),
Paul Meurisse (Michel Delassalle),
Charles Vanel (Alfred Fichet),
Jean Brochard (Plantiveau)
SCRIPT:
Jérôme Géronimi,
Henri-Georges Clouzot,
Frédéric Grendel,
René Masson (based on novel by Pierre Boileau & Thomas Narcejac)
PHOTOGRAPHY:
Armand Thirard
MUSIC:
Georges Van Parys
EDITING:
Madeleine Gug
COSTUMES:
Carven
Synopsis:

The headmaster of a decrepit French boarding school, Michel Delassalle, is a cruel man, a sadist who constantly abuses his fragile wife Christina as well as his lover Nicole Horner, a teacher who works with children. When they both realize that they have had enough of such a life, Michela, Christina and Nicole make a pact and decide to get rid of him with joint forces.
He will carry out the planned murder by stunning Michel with a pill put in his drink, then by drowning him in a bathtub and finally by throwing his body into the swimming pool on the grounds of the boarding school.
But when the pool is emptied the next day, it will be revealed that Michel's body has mysteriously disappeared. Everything will get even more complicated for Christina and Nicole when the students soon start to claim that they see Michel alive, and this will also affect the relationship between the two women and the growing distrust between them.
The film adaptation of the novel by the distinguished French duo Pierre Boileau and Thomas Narcejac (Vertigo, Faceless Eyes by Georges Franju), crime writers whose prose has often been screened in different cinemas, from French and German to Czech and American, is masterfully directed, extremely suggestive and impressively atmospheric. which the ambiance of the dilapidated boarding school brilliantly uses to build an impressive atmosphere of expanding anxiety.
In one of the darkest psychological thrillers of all time, directed by the famous Henri-Georges Clouzot (The Wage of Fear, The Raven, Quai des Orfèvres), the camera like a silent witness records the events, in the depiction of the transformation of murderers into victims, the director's irony and bitterness come to the fore, the characters are impressive layered character profiles, especially with the escalation of their psychological states into the irrational, and they are brilliantly interpreted by the Oscar winner Simone Signoret (Ship of Fools, Army in the Shadows), the actress and director's wife Véra Clouzot (Clouzot's Spies) and the respected Charles Vanel (The Wages of Fear, Drž´ and a thief).
Within the framework of the genre, it is an extremely important and influential work that will serve as a kind of template for the creation of a whole series of films, from Hitchcock's Psych and Hammer studio horror (Nightmare and Hysteria by Freddie Francis, The Night Walker by William Castle...) to Coppola's Dementia, The Games Curtis Harrington, the horror Dominique, the ghost that kills Michael Anderson, etc.
Hitchcock was allegedly interested in making a screen version of Boileau and Narcejac's novel, but Clouzot got ahead of him, so Hitch later made Vertigo based on their novel.
b/w, 114'