Olivier Assayas
25.01.1955, Paris, France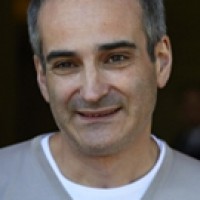 A French screenwriter and director, he entered the world of film by helping his father, French screenwriter Jacques Rémy (1910 - 1981) who was active during 1940s, and later turned to television work. When his health got worse, Olivier was helping him with small tasks, and later he secretly wrote scripts for some episodes of the TV series
Maigret
in his father's name. Even though he graduated from the French National School of Fine Arts in Paris as a painter, he later followed his father's footsteps. Between 1979 and 1985 he wrote for film magazine
Cahiers du cinéma
. Apart from essays on his favourite European film directors such as Robert Bresson, Ingmar Bergman and Andrej Tarkovski, he published articles on American horror films and Asian cinema. At the start of the Eighties he made his first short films, also collaborating on two screenplays for
André Téchiné's Rendez-vous
(1985) and
Scene of the Crime
(Le lieu du crime, 1986). His feature-length film debut as a director was made in 1986 with Disorder (Désordre, 1986). This was followed by the dramas
Winter's Child
(L'enfant de l'hiver, 1989),
Paris s'éveille
(1991),
A New Life
(Une nouvelle vie, 1993) and
L'eau froide
(1994). After that he made
La page blanche
(1994), the episode
L'eau froide
of television series
Tous les garçons et les filles de leur âge...
(1993 - 1994), some episodes of which were directed by the new generation of male and female French directors. His earliest international recognition came after his feature-length film
Irma Vep
(1996) made as an homage to Louis Feuillade and his film series
Vampires
(Les vampires, 1915), but also to Hong Kong cinematography. He gave the leading role to Hong Kong star Maggie Cheung who plays herself in the film. He later married her, but the marriage lasted for only three years, from 1998 to 2001. His interest in Asian cinematography continued in the filming of a documentary about Taiwanese film director Hsiao-hsien Hou as part of television series
Cinéma de notre temps
(1997). The following year he made the romantic drama
Fin août, début septembre
(1998), and the historical costume drama
Sentimental Destinies
(Les destinées sentimentales, 2000), the thriller
Demonlover
(2002) and the melodrama
Clean
(2004), yet another collaboration with Maggie Cheung. Cheung won the Best Leading Female Actress Award in Cannes in 2004. Taking a short break from feature-length films, Assayas directed a segment in the omnibus
Paris, I love you
(Paris, je t'aime, 2006). Following that he made two documentaries, one on a contemporary music festival
Noise
(2006) and one for television
Stockhausen/Preljocaj Dialogue
(2007) about the German composer Karlheinz Stockhausen, who died the same year. Next was the international thriller
Boarding Gate
(2007) with Michael Madsen and Asia Argento, supported by actors from Hong Kong. He also worked as one of the directors on the omnibus
To Each His Own Cinema
(Chacun son cinéma ou Ce petit coup au coeur quand la lumière s'éteint et que le film commence, 2007) and directed
Eldorado
(2008) for television, a documentary about the French dancer and choreographer Angelin Preljocaj. For the twentieth anniversary of the French Orsay Museum he produced the feature film
Summer Hours
(L'heure d'été, 2008). Two years later, he made the television miniseries (later released as a short film)
Carlos
, about a terrorist who was active in Europe during the seventies and eighties. His latest film,
Something in the Air
(Après mai, 2012), is currently in post-production.
Filmography
Après mai (2012) (u post-produkciji)
Carlos (TV serija, 3 nastavka, 2010)
L'heure d'été (2008)
Eldorado (2008) (TV)
Chacun son cinéma ou Ce petit coup au coeur quand la lumière s'éteint et que le film commence (2007) (dio Recrudescence)
Boarding Gate (Boarding Gate, 2007)
Stockhausen/Preljocaj Dialogue (2007) (TV)
Noise (2006)
Pariz, volim te (Paris, je t'aime, 2006) (dio Quartier des Enfants Rouges)
Clean (2004)
Demonlover (2002)
Ljubavne sudbine (Les destinées sentimentales, 2000)
Fin août, début septembre (1998)
Cinéma, de notre temps (TV serija, 1 nastavak: HHH - Un portrait de Hou Hsiao-Hsien, 1997)
Sans titre (kratkometražni dokumentarni) (1997)
Irma Vep (1996)
Tous les garçons et les filles de leur âge... (TV serija, 1 nastavak, 1994)
L'eau froide (1994)
Une nouvelle vie (1993)
Paris s'éveille (1991)
L'enfant de l'hiver (1989)
Désordre (1986)
Winston Tong en studio (1984) (kratkometražni dokumentarni)
Laissé inachevé à Tokyo (1982) (kratkometražni)
Rectangle - Deux chansons de Jacno (1980) (kratkometražni)
Copyright (1979) (kratkometražni)