Claude Chabrol
24.06.1930, Paris, France - 12.09.2010, Paris, France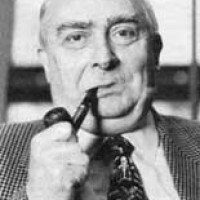 French director, screenwriter, actor and producer, born as Claude Henri Jean Chabrol. He is considered the originator of the French new wave. He spent his childhood in a village and at the age of twelve discovered film and especially enjoyed thrillers and detective stories. His father and grandfather were pharmacists and the same was expected of him. After WW II, he moved to Paris and started to study pharmacy and literature at the Sorbonne. For a short time he went to the School of Political Sciences (
Ecole Libre des Sciences Politiques
). He often visited the French cinematheque and film clubs where he met his future colleagues and members of the French new wave film movement. After graduation, he served in the military and in the 1950's, together with friends Éric Rohmer, Jean-Luc Godard and Jacques Rivette, he began writing for the
Cahiers du cinema
. They developed the
auteur
theory, which is still influential. In 1955, for a short time he worked in the marketing department of the French office of the American company 20th Century Fox. His film role models were Fritz Lang, F. W. Murnau, Ernst Lubitsch and Alfred Hitchcock, about whom Eric Rohmer and Chabrol published a book in 1957. He made his feature film debut in 1958 as a director, screenwriter and producer of the film
Le beau Serge
(1958). He produced it himself thanks to his first wife's inheritance and it became financially successful and critically acclaimed. His next film
The Cousins
(Les cousins, 1959) won the Golden Bear at the Berlin Film Festival in 1959. The director's main characteristics, already apparent in his first two films, were the obvious influence of Hitchcock, portrayal of the French bourgeois, characters with suspicious motives and murders. Thanks to the financial successes of his first two films, he established his production house AJYM Films for which he produced his friends' first films and thus got the nickname of the "godfather of French New Wave". Also thanks to his first two films, in 1959 he made
Web of Passion
(A double tour) in color but the film was unsuccessful. In 1960, he directed his acclaimed film
The Good Girls
(Les bonnes femmes, 1960) and
The Third Lover
(L' oeil du malin, 1962), which, together with previous works, form the "most personal" phase of his opus praised by the critics. At the same time he filmed the unsuccessful
Wise Guys
(Les godelureaux, 1961) for, as he stated himself, commercial reasons. Equally unsuccessful were his free adaptation of Hamlet
Ophélia
(1963) and
Bluebeard
(Landru, 1963) about the famous French serial killer. He displeased the critics when he directed a parody of spy films
The Tiger Likes Fresh Blood
(Le tigre aime la chair fraiche, 1964) and began hos phase of more commercial films that lasted until 1967 and included six films. In 1964, he directed his theatre production of Macbeth. He again won over the critics and the audience with his psychological drama
Girlfriends
(Les biches, 1968), which marked the beginning of Chabrol's acclaimed mature phase of films:
The Unfaithful Wife
(La femme infidèle, 1969),
The Beast Must Die
(Que la bęte meure, 1969),
The Butcher
(Le boucher, 1970),
The Break Up
(La rupture, 1970),
Just Before Nightfall
(Juste avant la nuit, 1970). In 1971, he directed a film in English
Ten Days Wonder
(La décade prodigieuse) and collaborated with Anthony Perkins and Orson Welles. This film as well as his next,
Dr. Popaul
(Docteur Popaul, 1972) starring Jean-Paul Belmondo and Mia Farrow, were not well accepted by the critics. He focused on political topics for the first time in the film
Wedding in Blood
(Les noces rouges, 1973), which was banned from the theatres for a month in France. His thriller
The Nada Gang
(Nada, 1974), again with a topic from politics, was his first film after
Handsome Serge
that did not focus on the bourgeois. Drama
A Piece of Pleasure
(Une partie de plaisir, 1975) is interesting because the main character was played by Paul Gégauff, Chabrol's frequent screenwriter. In addition, Paul's film wife and daughter were played by Chabrol's own first wife and daughter. In the late 1970's Chabrol started to direct television films and international co-productions such as the drama
Innocents with Dirty Hands
(Les innocents aux mains sales, 1975) and thriller
Blood Relative
(Les liens de sang, 1978). He then directed the comedy
The Twist
(Folies bourgeoises, 1976) that he always considered as one of his worst films. However, he also directed the film
Violette Noziere
(1978) starring Isabelle Huppert, one of his most famous films from the 1970's. The films he made in 1980's and 1990's are considered somewhat weaker in comparison to his earlier works. Nevertheless, some of his films won awards:
Story of Women
(Une affaire de femmes, 1988),
Madame Bovary
(1991),
Hell
(L enfer, 1994),
A Judgement in Stone
(La cérémonie, 1995),
At the Heart of the Lie
(Au coeur de mensonge, 1998),
Nightcap
(Merci pour le chocolat, 2000). His last films are the family drama
The Flower of Evil
(2003), thriller based on Ruth Rendell's novel
La demoiselle d'honneur
(2004), dramas
Comedy of Power
(L' ivresse du pouvoir, 2006) and
La fille coupée en deux
(2007) and the thriller
Bellamy
(2009) that he directed at the age of 79. In 2003, he won the European film award for life-time achievement and six years later he received the same award at the Berlin Film Festival.
Filmography
Bellamy (2009)
La fille coupée en deux (2007)
Comedy of Power (L' ivresse du pouvoir, 2006)
The Bridesmaid (La demoiselle d'honneur, 2004)
The Flower of Evil (La fleur du mal, 2003)
Nightcap (Merci pour le chocolat, 2000)
At the Heart of the Lie (Au coeur du mensonge, 1999)
The Swindle (Rien ne va plus, 1997)
A Judgement in Stone (La cérémonie, 1995)
Hell (L' enfer, 1994)
The Eye of Vichy (L' oeil de Vichy, 1993) (documentary)
Betty (1992)
Madame Bovary (1991)
Dr. M (1990)
Quiet Days in Clichy (Jours tranquilles a Clichy, 1990)
Story of Women (Une affaire de femmes, 1988)
The Cry of the Owl (Le cri du hibou, 1987)
Masks (Masques, 1987)
Inspector Lavardin (Inspecteur Lavardin, 1986)
Cop au vin (Poulet au vinaigre, 1985)
The Blood of Others (Le sang des autres, 1984)
The Hatter's Ghost (Les fantômes du chapelier, 1982)
La danse de mort (1982) (TV)
Les affinités électives (1981) (TV)
The Proud Ones (Le cheval d'orgueil, 1980)
Violette Noziere (1978)
Blood Relative (Les liens de sang, 1978)
Alice ou la derniere fugue (1977)
The Twist (Folies bourgeoises, 1976)
Death Rite (Les magiciens, 1976)
Innocents with Dirty Hands (Les innocents aux mains sales, 1975)
A Piece of Pleasure (Une partie de plaisir, 1975)
The Nada Gang (Nada, 1974)
Wedding in Blood (Les noces rouges, 1973)
Dr. Popaul (Docteur Popaul, 1972)
Ten Days Wonder (La décade prodigieuse, 1971)
Just Before Nightfall (Juste avant la nuit, 1971)
The Break Up (La rupture, 1970)
The Butcher (Le boucher, 1970)
The Beast Must Die (Que la bęte meure, 1969)
The Unfaithful Wife (La femme infidele, 1969)
Girlfriends (Les biches, 1968)
The Road to Corinth (La route de Corinthe, 1967)
The Champagne Murders (Le scandale, 1967)
Line of Demarcatio (La ligne de démarcation, 1966)
An Orchid for the Tiger (Le tigre se parfume a la dynamite, 1965)
Marie-Chantal vs. Doctor Kha (Marie-Chantal contre le docteur Kha, 1965)
Six in Paris (Paris vu par..., 1965) (segment La muette )
The Tiger Likes Fresh Blood (Le tigre aime la chair fraiche, 1964)
The Beautiful Swindlers (Les plus belles escroqueries du monde, 1964) (segment L' homme qui vendit la Tour Eiffel)
Ophélia (1963)
Bluebeard (Landru, 1963)
The Third Lover (L' oeil du malin, 1962)
The Seven Capital Sins (Les sept péchés capitaux, 1962) (segment L' avarice)
Wise Guys (Les godelureaux, 1961)
The Good Girls (Les bonnes femmes, 1960)
Web of Passion (A double tour, 1959)
The Cousins (Les cousins, 1959)
Handsome Serge (Le beau Serge, 1958)