Federico Fellini
20.01.1920, Rimini, Italy - 31.10.1993, Rome, Italy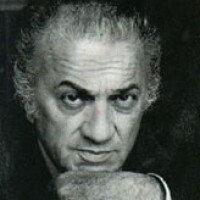 Fellini was an Italian screenwriter and director. He was born to a middle class family with four children and was educated in a Catholic boarding school. In 1938, he moved to Florence to study law, but soon he got interested in drawing caricatures, comic books and journalism. The following year he moved to Rome and enrolled in college to avoid the draft. In 1940 he began writing short gags and dialogue for films. During 1945 and 1946 he worked for Roberto Rossellini as a co-screenwriter and assistant director. He made his directing debut with
Lights of Variety
(Luci del varietŕ, 1950). At that time there emerged a new trend in film called
neorealism of the soul
(neorealist films with psychological and moral themes), and Fellini was one of its most important authors. He made his directing debut with the comedy
The White Sheik
(Lo sceicco blanco, 1952), and his film
The Young and the Passionate
(I vitelloni, 1953) won the Silver Lion in Venice in 1953. He received the same award for his film
The Road
(La strada, 1954), which brought him international acclaim and praise. He was nominated for the Oscar four times in the category of Best Foreign Film and won the award every time. His Oscar-winning films are
The Road
(1954),
Cabiria
(Le notti di Cabiria, 1957),
8 1/2
(1963) and
Amarcord
(1973). His film
The Sweet Life
(La dolce vita, 1960), which won the Golden Palm in Cannes in 1960, is one of his most famous films and the first starring Marcello Mastroianni, Fellini's future film alter ego.
Juliet of the Spirits
(Giulietta degli spiriti, 1965) was his first film in color and the main role is played by Giulietta Masina, his wife and actress with whom he collaborated from his first film. His other films include
Satyricon
(1969),
Roma
(1972),
City of Women
(La cittŕ delle donne, 1980),
And the Ship Sails On
(E la nave va, 1983).
Filmography
The Voice of the Moon (1990)
Intervista (1987)
Ginger and Fred (Ginger e Fred, 1986)
And the Ship Sails On (E la nave va, 1983)
City of Women (La cittŕ delle donne, 1980)
Orchestra Rehearsal (Prova d'orchestra, 1978) (TV)
Casanova di Federico Fellini, Il (1976)
Amarcord (1973)
Rim (Roma, 1972)
The Clowns (I clowns, 1971) (TV)
Satyricon (1969)
Histoires extraordinaires (1968) (segment Toby Dammit)
Juliet of the Spirits (Giulietta degli spiriti, 1965)
Federico Fellini's 8 1/2 (8 1/2, 1963)
Boccaccio '70 (1962) (segment Le tentazioni del dottor Antonio)
The Sweet Life (La dolce vita, 1960)
ights of Cabiria (Le notti di Cabiria, 1957)
The Swindlers (Il bidone, 1955)
The Road (La strada, 1954)
Love in the City (L' amore in cittŕ, 1953) (segment Un agenzia matrimoniale')
The Young and the Passionate (I vitelloni, 1953)
The White Sheik (Lo sceicco bianco, 1952)
Lights of Variety (Luci del varietŕ, 1950) (co-director)